They didn't come up empty, but it was close.
Despite efforts to attract more female officers, the Lawrence Police Department snagged only one female recruit in its most recent group of 11 new hires. So for the near future, the department will remain pretty much a man's world, with the number of female officers near 6 percent, well below the national average of 14 percent.
Sgt. Dan Ward, a Lawrence Police spokesman, said he didn't know why the department had a tough time attracting women, especially given that it has offered a series of "Women in Law Enforcement" open houses the past two years prior to hiring.
"Unfortunately, we just don't get a large applicant pool from that group," Ward said. "Would we like to have more? Sure. But we're not going to lower our standards."
Help wanted
Of the 171 applicants who passed the department's written test this spring, 20 were women. All who passed the test went before an interview board.
The top 30 candidates after that -- five of whom were women -- had personal interviews with Chief Ron Olin, Ward said.
The department extended job offers to two women, but one declined the offer, he said.
Attracting female officers isn't just about making the department look diverse on paper.
Female officers commonly are assigned to interview sexual assault victims. In cases where police are using a female "cooperating individual" to make an undercover drug buy, it's better to have a female officer on hand to search the person or help her put on a recording device, Ward said.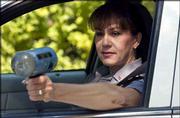 In addition, some experts say female officers do a better job communicating to defuse potentially violent situations and responding to domestic-violence complaints.
Lieutenant's view
Lt. Kari Wempe, a jail administrator for the Douglas County Sheriff's Office, said there were times people reacted differently to female law enforcers.
"Whether it's real or perceived, the public generally sees the female officer as more empathetic," Wempe said. "Men have less of a negative response to female officers sometimes."
A 2001 report by the National Center for Women & Policing attributed the disparity between men and women officers to factors including a shortage of high-ranking female role models in law enforcement, screening processes that can favor men and perceptions of an inability to rise through the ranks.
Perceived barriers
But Wempe, who's been with the sheriff's office for 29 years, said she thought the main limitations for women in law enforcement these days were the ones they placed on themselves.
"If they are healthy and have a good mind and are willing to work, they'll go far," she said.
Sgt. Catherine Born, a 28-year veteran of the Lawrence Police Department, agreed. She was a single mother raising two young children during her early years with the department.
"This is a very family-oriented group that we work with," Born said in an interview this spring. "I still don't think that women realize that it's a job they can do."
The new Lawrence Police recruits last month began a five-month police academy.
Nine of the new officers hired are first-time recruits, and two are from different agencies.
Last year was the first in many years Lawrence Police sent recruits to the Kansas Law Enforcement Training Center in Hutchinson. This year, the department has gone back to providing its own academy.
"We found that our academy is quite a bit more extensive than theirs," Ward said.
In 2001, about 14 percent of sworn law enforcement officers nationwide were women, according to a study by the National Center for Women & Policing.Within the Lawrence Police Department, eight of 131 officers -- about 6 percent -- are women, not counting a new recruit. Five of the women on the department are patrol officers, one is a detective and two are sergeants.The Lawrence-area department with the most glaring discrepancy between men and women is the KU Public Safety Office, which has no female officers on a force of 29.At the Douglas County Sheriff's Office, 14 of 75 commissioned officers -- about 19 percent -- are women. That includes two lieutenants.Dan Ward, a Lawrence Police spokesman, said he didn't know why the sheriff's numbers were higher. The two agencies tap similar sources for recruits, including Johnson County Community College, Washburn University and other law enforcement agencies.
Copyright 2018 The Lawrence Journal-World. All rights reserved. This material may not be published, broadcast, rewritten or redistributed. We strive to uphold our values for every story published.