KANSAS CITY, KAN. — It might be time to start calling him "Front-Row Joe" again.
For the second straight weekend, Joe Nemechek will be the pole-sitter, earning the top spot for Sunday's 1 p.m. Banquet 400 at Kansas Speedway.
"To pull off a pole here, to pull off back-to-back poles, that's pretty cool," said Nemechek, who had Friday's fastest lap with a spin around the 1.5-mile tri-oval track at 180.156 mph. "It's really an honor to be on the pole when you're beating guys like Ryan Newman and Kasey Kahne."
Kahne, who is challenging for the season's cumulative pole award, took second in both the Busch and NASCAR qualifying. Newman -- last year's winner at the Speedway -- was seventh.
Kahne's Evernham Motorsports teammate Jeremy Mayfield took third at 179.188 mph, current NASCAR Nextel Cup points leader Kurt Busch qualified 22nd, and two-time Speedway winner Jeff Gordon finished 30th.
Nemechek -- who earned the eighth pole of his career and first starting position in the top 11 in three years at Kansas Speedway -- said Friday afternoon's late weather change helped him out.
"The track had cooled off just a little bit," said Nemechek, who qualified first last weekend at Talladega for his first pole since 2000 and finished seventh in the race. "In my Busch car, I struggled a little bit because the track temp went way up from what it was this morning. Today the draw was good for us."
Pretty decent for Kahne, too, even though he said he would rather have had a qualifying sweep.
"We had him circled as a guy who could beat us," Kahne said of Nemechek. "It was a little bit cooler, and Joe went a lot faster. That was a great lap for them.
"This is one of the tracks where you have to keep your momentum going, you don't slow the car down, you don't use your brakes, you just keep your momentum and speed up."
That's what Nemechek said he wished he could have done throughout this season, and maybe given himself a shot to race in the Chase for the Cup.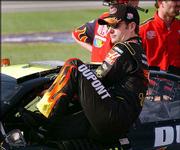 "It's unfortunate we didn't make the Chase," said Nemechek, who currently sits 24th in the series standings. "But I feel I've got a team good enough to do that. We had so many problems with parts and pieces this year.
"We didn't run good enough consistently to get in the Chase. But we're learning a lot this year that hopefully will apply next year."
Mr. Goodcents 300: NASCAR Busch Series race at 1 p.m. today (televised on TNT, Sunflower Broadband Channel 52).Banquet 400: NASCAR Nextel Cup series race at 1 p.m. Sunday (televised on NBC, channels 27, 41).
Copyright 2018 The Lawrence Journal-World. All rights reserved. This material may not be published, broadcast, rewritten or redistributed. We strive to uphold our values for every story published.