Atlanta — More than anyone, Rafael Furcal wants the season to last as long as possible. He made sure the Atlanta Braves played at least two more games.
Set to report to jail once the postseason ends, Furcal hit a two-out, two-run homer in the 11th inning that sent the Braves over the Houston Astros, 4-2, Thursday and tied their NL playoff series at one game each.
"It was awesome," teammate Adam LaRoche said. "For as much pressure as has been put on him, knowing what's going to happen to him after we're done ... I don't know how he's able to do it."
Furcal was in court just hours before Game 1, where he was sentenced to 21 days in jail and 28 days in a treatment center for violating probation with his second drunken-driving arrest in four years.
His sentence was put off until the day after the season ended. Furcal ensured that it wouldn't be ending with Saturday's Game 3.
"For me, when I'm coming to the ballpark ... I forget everything except the field, put a lot of concentration on the game," said Furcal, who had three hits and drove in three runs. "Then, after the game, when I go to my house, I think of all my problems."
With Houston on the verge of a commanding lead, manager Phil Garner brought closer Brad Lidge into the game in the seventh inning, but Atlanta rallied from a late two-run deficit to force extra innings.
"I'm just upset at myself for not getting the job done," Lidge said. "You can't think about how long you're going to be out there. For me, it doesn't matter what inning I come in."
Both teams went to extraordinary means -- the Astros looking to go two-up in the best-of-five series, the Braves realizing they needed a split before playing twice at Minute Maid Park, where Houston has won 18 straight games.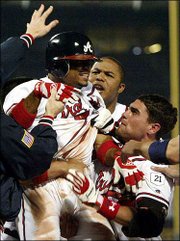 Braves rookie Charles Thomas singled with one out in the 11th off Dan Miceli and stole second. Eli Marrero popped out to the catcher, but Furcal golfed a 1-2 pitch deep into the right-field seats, flipping his bat in the air about halfway down to celebrate his first postseason homer.
"I think he feels just terrible" about his legal problems, Braves manager Bobby Cox said. "Nobody likes to have their name in the paper like that, that's for sure. As much as we can, we want him to forget about it, concentrate on baseball, and things will work out good for him in the future."
The Astros routed the Braves, 9-3, in Game 1, and were ahead 2-0 going to the seventh with 20-game winner Roy Oswalt on the mound.
Copyright 2018 The Associated Press. All rights reserved. This material may not be published, broadcast, rewritten or redistributed. We strive to uphold our values for every story published.