Vancouver, Wash. — Volcanic activity on Mount St. Helens died down significantly Tuesday night, with earthquakes subsiding to gentle rumbles, federal scientists said Wednesday.
They lowered the alert level from 3 to 2, but cautioned that this lull, as they termed it, doesn't mean the volcano is finished with its recent reawakening.
"Evidently we've gone through a major change here," said Willie Scott, a U.S. Geological Survey geologist. "We no longer think an event is imminent that would endanger life or property. But by no means do we think this period of unrest and eruption is over."
Early Wednesday morning, as a heavy rain squall dumped enough water on the mountain to cause very minor mudflows off the crater, earthquakes detected by USGS seismographs dropped to levels more similar to the first tremors detected last month as the volcano first started fussing. They also saw fewer rock slides that indicate magma is pushing up on the lava dome in the middle of the crater.
"But quite quickly it can go into unrest again, perhaps as vigorously, perhaps not as vigorously," Scott said. "Conditions on a volcano like this can happen very, very quickly. People need to remain vigilant."
Weather conditions on Mount St. Helens on Wednesday prevented scientists from making flights to the crater to measure gases and take other readings that help them understand what's happening deep inside North America's most active volcano.
As much as a quarter inch of rain fell into the crater overnight, washing ash and mud off the mountain into the so-called "pumice plain," and perhaps into Spirit Lake. But it wasn't enough to wash into the Toutle River or come anywhere near inhabited areas.
Johnston Ridge Observatory, at five miles away and the closest tourist spot to the crater, remained closed Wednesday because scientists believe the mountain could potentially spring to life so quickly. Trails and campgrounds in the near vicinity remain closed, too.
Scientists say the mountain is likely in a phase of magma buildup that could result in small-scale eruptions of steam and ash for weeks or months, or possibly even years.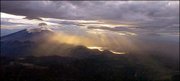 But the scientists have said since last month that they don't expect any eruption that would come close to rivaling the catastrophic blasts of May 1980.
The mountain is much different now that it was then, they say, and scientific measuring equipment is more sophisticated and more abundant on Mount St. Helens than it was 24 years ago.
The latest explosion was Tuesday morning, with a few white puffs from the crater morphing into larger, darker clouds that rose some 13,000 feet.
Aviation wasn't significantly affected by the emissions Tuesday. But the Federal Aviation Administration expanded a no-fly zone that had been limited to the area directly above the volcano. It now includes the area within a five-mile radius of the mountain.
That was primarily to make sure the skies are clear around the volcano in case emergency flights need to get in, said Julie Stewart of the U.S. Department of Agriculture, which manages the land around St. Helens. Media and scientific flights still are permitted, she said.
Copyright 2018 The Lawrence Journal-World. All rights reserved. This material may not be published, broadcast, rewritten or redistributed. We strive to uphold our values for every story published.