Stockholm, Sweden — Two Israelis and an American won the Nobel Prize in chemistry Wednesday for showing how cells can give a "kiss of death" to destroy unwanted proteins, a finding that could help scientists find new medicines for cancer and other diseases. The award marks the first time an Israeli has won a Nobel science prize.
Israelis Aaron Ciechanover and Avram Hershko, and American Irwin Rose were cited for revealing a process that gives doomed proteins a chemical label and then chops them up.
That process in turn governs such key tasks as cell division, DNA repair and quality control of newly produced proteins, the Royal Swedish Academy of Science said in awarding the prize. If it goes wrong, diseases like cervical cancer can result, the academy said.
Ciechanover, 56, is the director of the Rappaport Family Institute for Research in Medical Sciences at the Technion, in Haifa, Israel, while Hershko, 70, originally from Hungary, is a professor there. The 78-year-old Rose is a professor emeritus at the University of California-Irvine.
All three will share the $1.3 million cash prize for their work, done in the 1980s.
At a news conference in Hershko's apartment in the Israeli city of Haifa, the two Israelis said they hoped their work would lead to new advances in the treatment of cancer.
One such drug, Velcade, is on the United States market, Ciechanover noted, and "there are many more in the pipeline."
Added Hershko: "It does not mean that a miracle drug to beat cancer is on the way. But I do believe there will be advances in the treatment of cancer based on our work. This I truly believe in."
The protein-destroying process the scientists discovered was completely unexpected, because scientists had thought such destruction was not regulated, said Lars Thelander, a member of the Nobel Committee for Chemistry.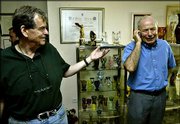 Thelander said research-ers now hope they will be able to manipulate the protein degradation system in two different ways -- either to prevent it from destroying proteins that boost the immune system, or to get rid of proteins that help cause diseases.
"And we hope also that by knowing this system in detail we will be able to make new medicines," he said.
The chemistry prize is the first Nobel science prize to be awarded to an Israeli -- but not the first Nobel Prize.
In 1978, Prime Minister Menachem Begin of Israel shared the Nobel Peace Prize with Egyptian President Anwar Sadat. In 1994, Israeli Foreign Minister Shimon Peres and Israeli Prime Minister Yitzhak Rabin shared the peace prize with Palestinian leader Yasser Arafat.
In 1966, Shmuel Yosef Agnon of Israel shared the 1966 literature prize with Swedish writer Nelly Sachs.
Hershko and Ciechanover said they were proud to be the first Israelis to win Nobel prizes for science. "We're a small country ... so we don't have all the infrastructure that big laboratories have in the U.S. or in other places," said Hershko.
The prize is "identified 100 percent with Israeli scientists that ... have worked and lived in the country and will continue to live and to work in this country," added Ciechanover.
Copyright 2018 The Associated Press. All rights reserved. This material may not be published, broadcast, rewritten or redistributed. We strive to uphold our values for every story published.