Thirty-one years ago, Russell Blackbird took a job teaching at Schwegler School.
And at the end of this school year, Blackbird, now principal at South Junior High School, will close three decades with the Lawrence school district.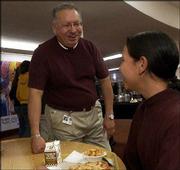 "I have had a very satisfying career," Blackbird said. "Having graduated from Lawrence High in 1968, and as a teacher and administrator in the Lawrence public schools, I have been able to observe significant positive gains this district has made, especially in acknowledging and providing for the needs of our ethnic minority and low-income students."
But he's not leaving academics.
While working on his doctorate about five years ago, Blackbird said, he decided he wanted to teach at the college level. He said he hoped to teach American Indian education or multicultural education at a university. So far, he has spoken with Kansas University and Kansas State University, and will approach Haskell Indian Nations University about possible positions there.
Blackbird earned his bachelor's and master's degrees at Washburn University and a doctorate at KSU.
Before working in Lawrence, he taught for more than a year on his home reservation, that of the Omaha Tribe of Nebraska in Macy, Neb., and in the village of San Felipe Indian Pueblo in New Mexico. In 1973, Blackbird began teaching at Schwegler. He also taught at Riverside School and served as assistant principal at South for several years becoming principal in 1995.
Lawrence schools Supt. Randy Weseman said people had "always known their children were in capable hands" during Blackbird's tenure.
"Dr. Blackbird is a benevolent and caring individual who is committed to ensuring all kids have the opportunity to realize their full potential," Weseman said.
Blackbird said his decision to retire had been an emotional one, but that he's proud of what he has accomplished.
"I'm very proud of my staff because I really believe my staff has worked very hard in recognizing accomplishments and needs and encouraging ethnic minorities or low economic students and recognizing diversity," Blackbird said.
Copyright 2018 The Lawrence Journal-World. All rights reserved. This material may not be published, broadcast, rewritten or redistributed. We strive to uphold our values for every story published.