Nine former Kansas University basketball players have reported to NBA training camps.
They are: Nick Collison, Drew Gooden, Kirk Hinrich, Raef LaFrentz, Greg Ostertag, Paul Pierce, Scot Pollard, Billy Thomas and Jacque Vaughn.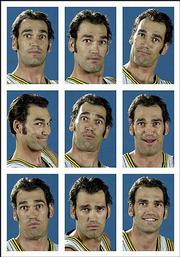 Collison, 23, second season, Seattle.
Gooden, 23, first season with Cleveland.
Hinrich, 23, second season with Chicago.
LaFrentz, 28, second season with Boston.
Ostertag, 31, is in his first season with Sacrameno.
Pierce, 26, begins his seventh season with Boston.
Pollard, 29, begins his second year with Indiana.
Thomas, 29, is a long shot to make the Wizards.
Vaughn, 29, is in his first season with New Jersey.
Copyright 2018 The Lawrence Journal-World. All rights reserved. This material may not be published, broadcast, rewritten or redistributed. We strive to uphold our values for every story published.