Between events, Lawrence High's Mallory West is a typical high school freshman. She cracks jokes, giggles and runs around with friends.
Once it's time to compete, her game face and focus appear, and both qualities showed up in a big way as she took first place Monday night at the Lawrence All-Around Invitational.
"Mallory's a gameday-type competitor," Lawrence coach Kathy Johnson said. "When she puts on that game face, you know she's going to do well."
West, competing for the first time in her home gym, edged Shawnee Mission Northwest's Erica Mings for top honors. West's score was 36.675, while Ming registered a 36.550. West won the beam (9.625), was second in the floor exercise (9.250) and third in the vault (9.000).
"It was amazingly fun," West said. "All my friends were here cheering me on, and it really motivated me to do well."
The annual meet featured 41 competitors from 16 area schools. No school sent more than three gymnasts to the meet, and some sent just one.
Freshman Jilian Hay was the lone competitor from Baldwin High, and she competed alongside the Lawrence High gymnasts.
West was one of three city gymnasts to place in the top 10 in the all-around. Free State senior Sindra Schueler finished fourth at 35.550.
Schueler's moment of the night came on the bars, where she won with a score of 9.250. The only event that kept Schueler from climbing into the top three in the all-around was her 17th-place finish in the vault after stumbling on each of her landings.
Lawrence sophomore Kara Kellison tied for seventh, using the strength of a second-place finish in the beam and third-place honors in the floor exercise.
But there was no denying the fact that West was the standout of the night. The numbers show her domination, and for a little flare at the end, she even won the annual impromptu freshman handstand contest held after all of the events finished.
"That made me pretty excited," West said. "I do handstands everywhere. I'm walking around the grocery store on my hands, so it's fun to know that it actually counts for something."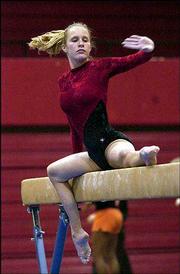 Copyright 2018 The Lawrence Journal-World. All rights reserved. This material may not be published, broadcast, rewritten or redistributed. We strive to uphold our values for every story published.