If it works for the Irish, it ought to be OK for Americans.
While traveling with his family this summer in Ireland, Kansas University sophomore Jared Loehr found he was able to drink beer despite being younger than 21. The experience reinforced an idea he was already working on: Why not lower the drinking age in Kansas?
"At 18 you are old enough to get sent to Iraq and fight and you are old enough to vote, but you can't drink a glass of wine at your own wedding," said Loehr, 19, of Overland Park. "That doesn't add up to me."
Of course, it's an old argument.
But Loehr and as many as 300 other KU students have decided to do something about it.
About 4 p.m. Saturday, a couple of hours before KU's Homecoming football game against Kansas State University, they will stage a protest march on campus. Carrying signs and banners to convey their belief the Kansas drinking age should be lowered to 18, the group will march from the Student Recreation Fitness Center across the main campus and down Mount Oread to the stadium.
The march will be the culmination of an effort begun last spring.
Along with friend and fellow student Krystal Werth, Loehr organized the Political Activist Club. They went through the university bureaucracy and did the necessary paperwork to make it a legitimate campus organization.
"We decided that this was something we felt very strongly about, so why not do something about it?" said Werth, a sophomore from Wichita.
Loehr began signing up members and getting the word out about the group while living last year in Oliver Residence Hall.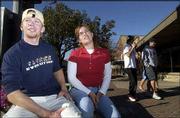 "I would ask them pretty bluntly what they thought about the drinking age and then sign them up," he said. "It wasn't a very rigorous process."
Before 1985, it was legal for 18-year-olds in Kansas to drink beer with an alcohol content of 3.2 percent. To consume any beverage with higher alcohol content, the law said you had to be 21.
The club's aim is to lobby the Kansas Legislature this winter to have the age limit rolled back to 18, but this time to allow consumption of all alcoholic beverages. Members know it will be an uphill battle, in part because if the state lowered the drinking age, it would risk losing federal highway funding.
"That really irks me," Loehr said of the federal government's involvement in the issue.
Loehr thinks the money spent enforcing the drinking age limit now would be better spent on alcohol education. Police efforts could be focused more on getting drunken drivers off the road instead of worrying about citing someone for being a minor in possession of an alcoholic beverage.
And even if the alcohol effort goes flat, the political club's name and function allow it the flexibility to address other issues as well, Loehr and Werth said.
"You've got to start somewhere," Loehr said.
Copyright 2018 The Lawrence Journal-World. All rights reserved. This material may not be published, broadcast, rewritten or redistributed. We strive to uphold our values for every story published.