Drew Vogel hunched over to peak at his cards under a cupped hand. Across the table, his brother, Ben Vogel, dealt to six other players sitting around a felt-topped table. Drew looked at three cards turned face up in the center of the table, squinted a bit, and brushed the table with his fist.
"Check," he said.
The game is poker -- Hold 'em to be specific -- and the Vogel brothers, both students at Lawrence High School, are part of a recent boom in play. With cable channels like ESPN and Bravo running poker programs several times a week, interest in the game has spread across the country. And not all of the new players aren't stereotypical Las Vegas fat cats -- they are teenagers.
The Vogels usually play for a couple of hours once or twice a week with a group of current LHS students and recent LHS graduates. The group started playing last year, about a month before ESPN broadcast the 2003 World Series of Poker.
"When ESPN starting showing poker all the time, it got really popular at school," Drew Vogel said. "Everybody started to play, which was a lot of fun."
Jacob Gage, an LHS senior, enjoyed playing poker before it became popular on television.
"It was a lot of fun because we had started before everybody else, and we were better," he said.
Their games aren't high-stakes, but an air of professionalism surrounds the players.
Thomas Shmalberg, an LHS graduate and Kansas University student, built a poker table out of plywood and fabric, and bought a chip set off eBay for $80. Conversation at their games is generally limited to sporadic utterances of poker jargon -- players talking about "checks," "the flop" and "blinds" -- but the room is far from silent. Several players persistently manipulate a stack of chips in their hand, creating a constant clattering that filled the room.
For Drew Vogel, the game is another form of entertainment.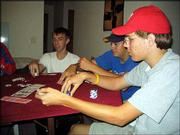 "I kind of see this like just going to a movie, except when you go to a movie you are guaranteed to lose money," he said. "Here you buy in for $10, and you get the entertainment, but you might make a little money, too."
Drew Vogel often plays in settings where there isn't any money involved at all. Once or twice a week, he said, he played at Poker Pub league games throughout town.
But poker's randy reputation has followed it into this latest boom, making it difficult for some younger players to justify the game to their parents. Drew Vogel said playing poker actually had some attractive qualities.
"My parents are pretty cool with it, because they always know where I am when we do it," he said.
Even though the group plays frequently, none of them considered playing poker professionally.
"I think everyone here expects to go to college and get a real job. No one is like, "I'm going to play poker for the rest of my life," Drew Vogel said.
Copyright 2018 The Lawrence Journal-World. All rights reserved. This material may not be published, broadcast, rewritten or redistributed. We strive to uphold our values for every story published.