Hampton, N.H. — Picking up a little star power from actor Michael J. Fox, Democrat John Kerry launched a withering attack Monday against President George Bush over federal funding for embryonic stem-cell research.
Kerry accused Bush of taking the wrong turn not only on stem-cell research but also on a host of other scientific issues, from ergonomics in the workplace to global warming. And he pledged to lift Bush's restrictions on research into potential disease cures.
"He's out of touch," the Massachusetts senator said, portraying Bush as a stubborn president more interested in solidifying his conservative Republican base than listening to scientists.
The Bush campaign retorted that Kerry was distorting the president's policies for political advantage.
"The senator wants to go out and frighten people and mislead them," said spokesman Steve Schmidt, noting that Bush was the first president to approve federal funds for stem-cell research, a very new field.
Schmidt called such research promising but said most scientists see no imminent relief from it for Parkinson's, diabetes or other diseases.
"Cures are not around the corner," he said.
The latest spat between the two rivals could well be a preview of Friday night's town-hall debate in St. Louis, where domestic issues are expected to surface along with national security and foreign affairs. So both Kerry and Bush set the stage Monday with more talk about science and economics than the war with Iraq.
At Winnacunnet High School on the southeastern edge of New Hampshire, Kerry was introduced by Fox, who has become a leading advocate of stem-cell research since disclosing that he has Parkinson's disease.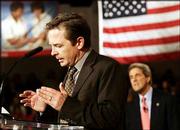 The issue is sensitive because harvesting the cells requires killing an embryo. But scientists say the research has tremendous promise because stem cells can morph into any kind of body tissue. Bush allows federal funding of research on stem cells from 78 lines, or self-replicating colonies, that existed in August 2001.
That, Fox said, "sent us in the wrong direction."
"It was kind of like he gave us a car and no gas and congratulated himself for giving us the car," Fox said.
Kerry has pledged as president to seek more federal funding and fewer restrictions.
"The hard truth is that when it comes to stem-cell research, this president is making the wrong choice to sacrifice science for extreme right-wing ideology," Kerry charged.
Copyright 2018 The Lawrence Journal-World. All rights reserved. This material may not be published, broadcast, rewritten or redistributed. We strive to uphold our values for every story published.