Overland Park — With the wind gusting out of the north at 25 mph, coach Dirk Wedd knew his Lawrence High football team would have to run the ball on a chilly Friday night at Shawnee Mission South District Stadium.
No problem.
Jeff Colter rushed for 238 yards on 25 carries, and the Lions finished with 433 rushing yards in a 42-21 victory over Shawnee Mission South.
"You couldn't punt into that wind," Wedd said. "You have to put the ball on the ground and run it, run it, run it."
The Lions ran the ball on 52 of their 55 plays. LHS punted only once, a 10-yard quick kick by Colter on the Lions' first possession.
LHS (2-3 overall, 2-2 Sunflower League) needed only six plays to score on its second drive, when junior running back Nolan Kellerman broke loose for a 74-yard touchdown. LHS led 6-0 after its two-point conversion failed.
The Lions' two other first-half scoring drives took considerably more work -- and more time off the clock.
Lawrence High ran 36 first-half plays, compared to 16 for SM South. The Raiders (1-4, 1-3) still were in good shape early, however, after two short scoring drives.
After Eric Monroe put SMS on top, 7-6, with a 51-yard run, Lawrence senior Ian Handshy gave SMS the ball back when he fumbled a pitch that linebacker Danny Clinesmith recovered.
Monroe, who gained 108 of his 113 yards in the first half, scored two plays later from four yards out.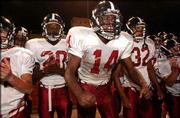 Lawrence countered with two long scoring drives -- a 13-play, 80-yard drive capped by Richard Demby's 8-yard run and a 12-play, 68-yard drive capped by Kellerman's 20-yard halfback pass to quarterback Brian Heere.
Kellerman completed two passes for 58 yards.
"They were loading up with 11 people at the line," Wedd said of South's defense. "If they're going to commit that many people to stopping the run, something else has to be open."
LHS led 20-14 at the break, but Wedd knew that a six-point lead on the road wasn't good enough.
"The biggest thing is the defense stepped up," he said. "I challenged the defense at halftime. They got us the ball, and we went down and scored. That was huge."
LHS forced the Raiders to punt on their first possession of the second half, and the Lions took over at their own seven. The poor field position didn't last because Colter -- who had three carries of 25 yards or more -- ran 79 yards on first down.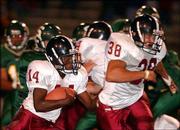 Heere scored from six yards out four plays later.
South pulled within 28-21 on a six-yard TD run by Anthony Hill with 3:15 left in the third quarter, but the Raiders were stopped on downs on both of their fourth-quarter possessions.
LHS tagged on another eight-yard TD by Demby -- who carried three times for 28 yards -- and Handshy added a one-yard score.
In addition to Colter's 238 rushing yards and 38 receiving, Kellerman had 116 yards on nine carries and Handshy finished with 32 yards on 12 carries.
"They're special backs," Wedd said. "You can rest them, and when they come back in they run hard."
LHS finished with 491 total yards, compared to 261 for SMS. After averaging just 12 points a game in three early season losses, the Lions have scored more than 40 points in back-to-back victories.
Lawrence High will try to make it three in a row with a 7:30 p.m. game Friday against Olathe South at Haskell Stadium.
First Quarter4:58 -- Nolan Kellerman 74 run. Lawrence High started its second possession at its own three-yard line, but the Lions needed just six rushing plays to move 97 yards. Jeff Colter picked up three yards and a first down on third-and-short at the 23 before the touchdown. Brian Heere's two-point conversion pass to Colter was wiped out by a penalty, and Colter's run failed. (LHS 6, SMS 0)3:53 -- Eric Monroe 51 run. Shawnee Mission South took over at its own 40 after LHS kicked off into a strong wind, and Monroe scored three plays later. Shane Schulze kick. (SMS 7, LHS 6)3:24 -- Monroe 4 run. Linebacker Danny Clinesmith recovered a Lawrence fumble at the Lions' 15, and Monroe scored two plays later. Schulze kick. (SMS 14, LHS 6)Second Quarter9:09 -- Richard Demby 8 run. LHS pulled even with a 13-play, 80-yard drive. Colter carried six times for 54 yards. Colter run. (LHS 14, SMS 14)1:13 -- Brian Heere 20 pass from Nolan Kellerman. LHS took the lead with a 12-play, 68-yard drive. LHS ran 11 straight running plays before facing fourth-and-seven at the SMS 20. Kellerman's halfback pass to the quarterback put the Lions up at halftime. Colter run failed. (LHS 20, SMS 14)Third Quarter7:46 -- Heere 6 run. LHS started at its own seven after a SMS punt, but Colter ran 79 yards on first down. Heere scored four plays later. Colter run. (LHS 28, SMS 14)3:15 -- Anthony Hill 6 run. Hill carried five times for 34 yards, and quarterback Connor McKay had a 23-yard run in a 13-play, 63-yard drive. Schulze kick. (LHS 28, SMS 21)Fourth Quarter10:37 -- Demby 8 run. Kellerman's second halfback pass was a 38-yarder to Colter that moved LHS to the SMS 18. Demby scored his second TD on as many carries three plays later. Pass failed. (LHS 34, SMS 21)4:16 -- Ian Handshy 1 run. Colter's 50-yard run and a 12-yarder by Demby highlighted a quick five-play, 66-yard drive. Handshy run. (LHS 42, SMS 21)
Copyright 2018 The Lawrence Journal-World. All rights reserved. This material may not be published, broadcast, rewritten or redistributed. We strive to uphold our values for every story published.