Let the postdebate spin begin.
President Bush and Democratic challenger John Kerry on Thursday battled in the first of three debates with Kerry taking a page from Bush's old Texas playbook by keeping Bush on the defensive most of the evening.
In the 1994 race for Texas governor, Democratic incumbent Ann Richards once lamented her administration had many accomplishments to be proud of, but she said Bush kept complaining "you missed a spot here and you missed a spot there." Bush won that race, which helped catapult him to the national political scene and eventually the White House.
But Thursday, it was Kerry turning the tables on Bush during the debate at the University of Miami. Kerry took the Republican to task over his handling of the war in Iraq, failing to capture Sept. 11 terrorist planner Osama bin Laden and isolating the United States from its allies.
At the Lied Center, where more than 600 people watched the debate on a large-screen television, it was evident most in the crowd supported Kerry as they applauded his answers and laughed at Bush's stumbles and facial expressions.
Mark Zakoura of Leawood said he supported Kerry but didn't appreciate those in the crowd who made jokes about Bush. "The better way is to sit and listen," he said.
Kerry supporter Tom Matzen of Lawrence said the Massachusetts senator won the debate but that people shouldn't underestimate Bush's performance.
"He uses a lot of key phrases that have a vast appeal to a lot of Americans," Matzen said, such as Bush's statements that he doesn't need the United Nations' permission to do what he thinks is necessary to defend the United States.
But for Lindsey Evans, a KU student preparing to vote in her first presidential election, Bush's repetition was upsetting.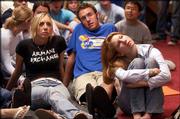 "I felt President Bush had six answers in his coat pocket and kept repeating them," Evans said, adding she was undecided before the debate but now was planning to vote for Kerry.
Most observers said the debate surpassed expectations and overshadowed concerns the numerous ground rules would keep the discussion low-key and uninteresting.
Instead, from the outset the two candidates mixed it up.
"The president is not getting the job done," Kerry said as he repeatedly criticized Bush for failing to have a plan to finish the war in Iraq. To soldiers serving in Iraq, Kerry looked into the camera and said, "Help is on the way."
But while Bush seemed off-balance at times, he pounded home his themes that progress was being made in Iraq, the removal of former Iraqi ruler Saddam Hussein from power was a necessary part of the war on terror and Kerry had changed his public stances on the war to try to better position himself politically.
"People know where I stand," Bush said. "I won't change my core values. You cannot wilt."
Kerry said the president had failed to come up with a good plan in Iraq and misled the public in bringing the country to war.
"You don't need to rush to war without a plan to win the peace," Kerry said.
He accused Bush of making a mistake by "outsourcing" the capture of bin Laden to Afghanistan warlords who shouldn't have been trusted. He linked Bush's tax cut for wealthy Americans to inadequate supplies and equipment for soldiers in Iraq, and he said Bush had failed to keep North Korea from making nuclear weapons.
But Bush said Kerry kept changing his tune on Iraq, first supporting the war then pulling back. Bush said Kerry hurt the efforts and morale of U.S. soldiers by saying the war in Iraq shouldn't have been fought. Bush also said Kerry, as president, would be unable to mend fences with coalition forces and Iraqi leaders that Kerry had criticized.
Bush said the world depended on "certainty" from the U.S. president, but Kerry replied, "You can be certain and be wrong."
Zakoura, one of those attending the event at the Lied Center, said the debates were important to help voters decide.
"For the candidates to get together, talking about issues important to America -- that's what freedom is all about," he said.
Copyright 2018 The Lawrence Journal-World. All rights reserved. This material may not be published, broadcast, rewritten or redistributed. We strive to uphold our values for every story published.