ATCHISON — Mourners described a Kansas soldier killed in Iraq as so devoted to the military that his blood flowed Army green.
Clinton Lee Wisdom, who was promoted to sergeant first class after his death, received a military burial Thursday after funeral services at the First Christian Church in Atchison.
The 39-year-old Atchison man and another Kansas Army National Guardsmen, Sgt. Don Clary, were killed earlier this month after they put their vehicle between a convoy they were assigned to protect and a vehicle driven by insurgents that exploded.
Funeral services were Tuesday for Clary, 21, of Troy. Both men belonged to Battery B, 2nd Battalion, 130th Field Artillery.
Their field artillery unit has been providing security and support in Iraq since it deployed in February.
Guard spokeswoman Joy Moser confirmed Thursday that the men's actions prevented harm to Charles Duelfer, director of the U.S. weapons inspection team in Iraq who was riding in the convoy.
She said Duelfer acknowledged the guard members' sacrifice during recent testimony to the House Committee on International Relations.
Mourners said Wisdom's commitment to duty came as no surprise.
"Clinton Wisdom couldn't dance," said Lt. Col. Larry Parrish, the battalion's chaplain, drawing laughter. "He couldn't sing, either. (But) he was honest. He was brave, very brave. He was smart, very smart. Above all else, he was a soldier."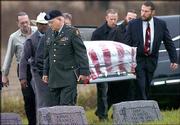 Wisdom's pastor, the Rev. Lee Hendon, said the quick reaction to the bomb attack was a sacrifice on behalf of peace.
"In the last instant, God separated him (from the bomb) by taking him into heaven," Hendon said.
Copyright 2018 The Associated Press. All rights reserved. This material may not be published, broadcast, rewritten or redistributed. We strive to uphold our values for every story published.