West Orange, N.J. — Professional weirdos Mark Moran and Mark Sceurman pulled into Rosehill Cemetery one day and wound their way around the headstones before arriving at the tomb of Raymond Tse.
At first, it looked like so many other mausoleums in the Linden cemetery. There was nothing much out of the ordinary with its marble pillars and two stone lions.
But then there it was: a full-sized Mercedes-Benz sedan carved from a single block of granite parked right next the tomb, its personalized license plates reading "Ray Tse."
The two Marks grinned with satisfaction seeing their guests clearly weirded out. After all, that's what they do. Moran and Sceurman are the publishers of "Weird N.J." a 60,000-circulation magazine, and authors of last year's best-selling book of the same name. Tse's tomb is one of their all-time favorite entries, and maybe the best in the cemetery category. The entry made the spring 1996 issue.
"And then there's the tragic story behind it," Moran noted, "of the kid dying before he got his driver's license, and his brother making good on the offer to get him a car."
Now, the two Marks are taking their weirdness national, with the recent publication of "Weird U.S.: Your Travel Guide to America's Local Legends and Best Kept Secrets."
"Weird U.S.," published by Barnes & Noble Books, is 352 pages of color photos and bathroom-length blurbs, with chapters headed "Local Legends," "Ancient Mysteries" and "Bizarre Beasts."
The book has such items as Connecticut's Damned Village of Dudleytown; the ax-wielding Bunnyman of Fairfax County, Va.; America's Stonehenge, in North Salem, N.H.; and the Fountain of Youth Burial Ground in St. Augustine, Fla.
And the Green Fireballs of New Mexico and the Marvelous Marfa Lights in Texas; the Lizard Man of Bishopville, S.C.; Massachusetts' Dover Demon; and the Bear Lake Monster of the Utah-Idaho border region. There are shuttered insane asylums and gateways to hell.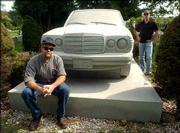 But New Jersey, where midget albino cannibals are said to stalk the town of Boonton, still reigns supremely weird.
Barnes & Noble CEO Steve Riggio said the first book was "an astounding success," having sold 100,000 copies in less than a year, mostly within New Jersey. Riggio said "Weird U.S." got off to an equally fast start, selling 6,500 copies nationwide in its first week. Each book sells for $19.95.
"We plan on publishing many more books in the coming years," he said.
Moran, 43, and Sceurman, 47, are former musicians who still wear Vans and Doc Martens. Both sport goatees. The two met after Moran, a graphic artist by trade, heard Sceurman, a former magazine editor, talking about his newsletter in a 1992 interview on WFMU, New Jersey's quirky freeform radio station. Both live in New Jersey -- Moran in West Orange and Sceurman in Bloomfield.
Since February, the epicenter of their weird media empire has been Building 135 at the West Orange research and development facility built by Thomas A. Edison.
New Jersey has been likened to one huge suburb, which the authors said might help explain why the state has generated so much weirdness. As kids, they both liked exploring the woods and old houses around their neighborhoods, letting their imaginations free them from what Moran called "the boredom of suburbia."
"It makes sense," Sceurman said, "that if you're living in a very mundane environment, if somebody brings something that suggests your environment is not as mundane as you think, you'll naturally gravitate to it."
Copyright 2018 The Associated Press. All rights reserved. This material may not be published, broadcast, rewritten or redistributed. We strive to uphold our values for every story published.