The look in Jason Swanson's eyes as he sat on the Memorial Stadium turf told Colorado defensive end Matt McChesney something was wrong. Seriously wrong.
"He didn't look too happy when I got off him," McChesney, the 6-foot-4, 290-pound CU captain, said of Swanson, Kansas University's starting quarterback.
McChesney's crushing hit on Swanson knocked the junior signal-caller out of the game in the first quarter. Down 14-0 at the time, CU scored on defense two plays later as the Buffs battled back to outscore the John Nielsen-led Jayhawks, 30-7, in a 30-21 victory at Memorial Stadium.
"I just ran through him," McChesney said of the play that appeared to bash the QB's shoulder. "I was not trying to hurt him."
The Jayhawks had little to no chance without Swanson. The Buffs rolled the rest of the way to improve to 5-4 overall and 2-4 in the wide-open -- except for last-place KU -- Big 12 North.
"It's hard to say," CU coach Gary Barnett said, asked if Swanson's injury affected the outcome of the game. "If I was down to my fourth quarterback ... in my locker room I'd tell you it affected my game. I'm sure Mark (Mangino, KU coach) would tell you that."
The fact Nielsen was in affected the Buffs' game plan.
"Kansas was struggling at quarterback, obviously," Barnett said. "It felt like they were going to have trouble moving the ball. We were able to be a little more conservative."
CU rode big plays to victory.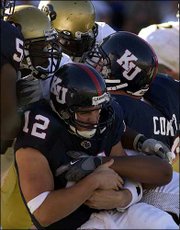 Dominique Brooks picked up a fumble by John Randle off a short shovel-pass completion from Nielsen -- Nielsen's first snap from scrimmage -- and rambled 41 yards for a score with 8:39 left in the first quarter, cutting the early gap to 14-7.
"I was running pursuit angle," Brooks said, "and saw the ball bounce to the right. I actually grabbed it with one hand and took off."
Another big play was Stephone Robinson's 48-yard punt return for a score, erasing a 21-17 KU lead with :12 left in the third quarter. That TD came with a big assist from CU All-America punter John Torp, who had pinned KU at its own one-yard line after the Buffs' previous possession.
"I just tried to make somebody miss," said Robinson, a red-shirt freshman from Denver. "I had a couple of good blocks. Once I got around the wall it was sideline. It felt good. I felt like I was due."
"That punt return was as big as anything that happened in the game," Barnett said. "He has so much courage back there. He's made a difference for us."
Now the Buffs are looking forward to a chance to tie or win the North Division. CU will play Kansas State on Saturday in Boulder and follow that with another home game against Nebraska.
"Now as we sit here, with everything that's happened, it's in our lap," Barnett said. "We've just got to figure out what it takes to get it. We can't be in any better situation."
Fullback Lawrence Vickers, who was so tired after the game he had trouble putting on his sports coat outside the locker room, believes the Buffs can win their final two games.
"I put it like this, things happen for a reason," said Vickers, who had 24 yards rushing off four carries and a touchdown and 50 yards receiving off four receptions. "It's still meant for us to go. We're never out of it. It's set up for us to do it. Why not us? Why not us?"
Buffs' QB Joel Klatt, who hit 18 of 31 passes for a touchdown and three interceptions, agreed.
"All we have to do is win our last two games, and we can be in the championship game," he said. "We'll keep working and playing as hard as we can."
Copyright 2018 The Lawrence Journal-World. All rights reserved. This material may not be published, broadcast, rewritten or redistributed. We strive to uphold our values for every story published.