Kansas City, Mo — Even with a victory Sunday over Kansas City, Minnesota was ensured of a losing record in May for the first time since 2000.
Corey Koskie drove in three runs, and Alex Prieto hit his first major-league home run for the Twins, who beat the Royals, 8-3. The Twins completed a 2-4 trip, finishing a stretch during which they played 17 of 25 games away from home
"It will be nice to get back home, actually for a homestand and not just three games," Minnesota manager Ron Gardenhire said. "We need a homestand. We're getting close to getting healthy, so all those things together make it very happy prospect. It's been a long time on the road."
Minnesota, 12-15 in May, starts a season-longest 13-game homestand today.
"It will be so good to be home for a couple of weeks," Jacque Jones said. "Our last few homestands have just been three or four days."
Kyle Lohse (2-4) allowed three runs and nine hits in five-plus innings for his first victory in eight starts. Lohse's other victory this year was against the Royals on April 17.
Prieto, a rookie infielder, hit a two-run homer in the fourth off Jimmy Gobble (2-3) following an RBI single by Henry Blanco. The home run came in Prieto's 37th career at-bat.
Lew Ford, who had a solo homer in the third, was hit by a pitch, and Koskie's two-run single made it 6-0. Koskie added an RBI single in the ninth.
Minnesota, which lost the first two games of the series, avoided getting swept in Kansas City for the first time in 10 years.
The Royals, told last week that general manager Allard Baird might begin trading players if they did not start winning, took two of three from both Detroit and the Twins.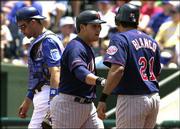 "Any time you win four out of six, it is a good homestand," Royals manager Tony Pena said. "I'll never be satisfied. I am just happy to see our ballclub playing better baseball right now."
Gobble, a 22-year-old rookie left-hander, lost for the third time in four decisions, giving up six runs and eight hits in 3 2-3 innings.
Matt Stairs hit an RBI double in the fourth for the Royals, and Benito Santiago homered leading off the fifth. With one out, Mike Sweeney popped up with the bases loaded. Doug Mientkiewicz dropped the ball in short right, but umpires already had called out Sweeney on the infield fly rule.
Mientkiewicz threw to first in an attempt to double up Carlos Beltran, but his throw struck Sweeney in the back. As Sweeney lay on the ground, Desi Relaford scored from third. Catcher Henry Blanco ran down the ball and threw to first, where Jones tagged out Beltran off the bag for the final out.
Beltran did not have to get back to first since the umpire had not ruled the ball a catch. But Angel Berroa, standing on second base, was one of many who were confused.
"I saw the umpire call the infield fly, so as soon as he dropped it, I went to second," Beltran said.
But there stood Berroa.
"I said, 'Go, go, go,' " Beltran said. "Berroa told me, 'Get back, get back, get back.' So I tried to get back, but I was out at first. It was a mess."
Gardenhire admitted the play had him befuddled.
"It was a very confusing play," he said. "That was pretty weird stuff. Honestly, when I saw Sweeney laying on the ground hit in the back, I thought I'd seen just about everything."
Sweeney, who was not injured, declined to discuss the play.
"I didn't get the job done, and we lost the game," he said. "I'm just hoping right now that taking two out of three is enough to keep this team intact."
Matt LeCroy hit an RBI single in the seventh.
Notes: When the ball left the park on Ford's home run to left field, so did Relaford's glove. It caught on the top of the 8-foot fence and slipped off his hand as Relaford jumped in an effort to make the catch in left. Play was halted a few minutes while a fan descended the steep, grassy slope to pick the glove up and toss it down to Relaford. ... Michael Cuddyer had reached in eight consecutive plate appearances when he was retired on a fine running catch in right by Stairs in the first. ... Scott Sullivan, struck out the first five batters he faced, all swinging. ... The Royals had their first two runners on base in the sixth and the eighth but failed to score. ... Tony Graffanino singled off Joe Nathan with one out in the ninth, the first hit Nathan allowed since May 7. Batters had been 0-for-26 against him since then.
Copyright 2018 The Associated Press. All rights reserved. This material may not be published, broadcast, rewritten or redistributed. We strive to uphold our values for every story published.