Baltimore — Two young men were arrested on murder charges Friday in the gruesome slayings of three younger relatives in an apartment. One was beheaded with a butcher knife, the others were nearly decapitated, police said.
Police said the two men were cousins, but the Mexican government identified Policarpio Espinoza, 22, as the children's uncle and Adan Espinoza Canela, 17, as their cousin.
Investigators said they did not know the motive for the killings, and they did not disclose how they connected the suspects to the crime.
The children were identified by the principal at their school as 9-year-old Ricardo Espinoza; his 9-year-old sister, Lucero Quezada; and their 10-year-old cousin Alexis Quezada, a boy.
The bodies were found in two bedrooms of the first-floor apartment. Police found a butcher knife near the apartment and said they believed it was used in the killings.
The suspects were "emotionless" as they talked with detectives, Deputy Police Commissioner Kenneth Blackwell said.
The children had returned home as usual Thursday from Cross Country Elementary School and were found dead less than two hours later by a woman who was the mother of at least one of the victims. Neighbors heard screams from the woman, who speaks Spanish but little English, and called 911 for her.
"There's blood all over my apartment," a woman said in the 911 call, apparently translating for the mother. "They've killed my family!"
Parents and teachers at Cross Country hugged each other Friday morning and cried. Grief counselors were on hand for the 700 students.
Principal Matthew Riley described the children as "wonderful young people, lovely children, delightful to work with."
A relative said the family was from Mexico and moved from New York to Baltimore three years ago. The relative said the family owned a food business.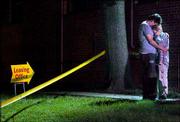 Copyright 2018 The Associated Press. All rights reserved. This material may not be published, broadcast, rewritten or redistributed. We strive to uphold our values for every story published.