A month remains until the dedication of a new memorial honoring Douglas County veterans, and organizers say work is on track.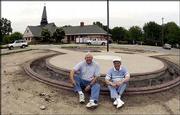 "Other than landscaping and waiting for the sculpture, it's all finished," said former Lawrence Mayor Erv Hodges.
The 19-foot sculpture is being created by Lawrence artist Jim Brothers. Called "From the Ashes," the sculpture depicts a half-man, half-phoenix rising from flames. It will be the centerpiece of the Douglas County Memorial of Honor at the Lawrence Visitor Center, 402 N. Second St.
Brothers also created the statues featured in the National D-Day Memorial in Bedford, Va., and a statue of President Eisenhower that stands in the U.S. Capitol.
"We expect to install it the week of the 14th, which is Flag Day," Hodges said of the sculpture delivery.
Organizers still need $17,000 to complete the memorial with a computer kiosk -- to be placed inside the visitor center -- that will list the name and story of each Douglas County soldier, sailor and public safety officer who died in the line of duty, going back to the Civil War.
Otherwise, about $200,000 has been raised to pay for the memorial.
"Basically, we will have everything paid for," Hodges said.
"I'm not going to order the computer until I have everything in hand."
Until that can be accomplished, he said, the names and stories will be compiled into a hardback book available for viewing at the visitor center. More than 400 names have been collected through research of armed forces archives, Hodges said.
"This will be the only place where you can look at all of them in one spot," Hodges said. "It's been very interesting."
Collecting those stories, Hodges said, has been eye-opening. He served as a Marine in Korea and Vietnam, retiring at the rank of lieutenant colonel.
"These were ordinary people who did extraordinary things," he said. "They made sacrifices of all types.
"They're basically your neighbors and mine, who stepped forth without question to do these things, just like our firemen and policemen the last couple of years, and our guys over in Iraq right now," Hodges said. "It's really impressive."
The dedication is planned for July 3.
Copyright 2018 The Lawrence Journal-World. All rights reserved. This material may not be published, broadcast, rewritten or redistributed. We strive to uphold our values for every story published.