Clinton Lake became a magnet for northeast Kansas holiday fun-seekers Friday, the unofficial start of summer.
Soaring gasoline prices didn't slow the lake's Memorial Day weekend traffic, which actually may have increased because of travelers seeking closer-to-home destinations.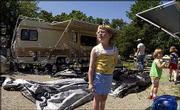 "We're filling up at a faster rate than we have in the past," said David Rhoades, park manager with the U.S. Army Corps of Engineers. "All the campsites -- the ones with utility hookups -- they're pretty much already taken."
Rhoades said he expected between 30,000 and 40,000 campers, boaters and passers-through this weekend.
"That's fairly typical," he said. "This is always our biggest weekend of the year."
At Perry Lake, campsites with utilities are full this holiday weekend, too, officials said.
An unofficial license-plate survey Friday afternoon found that most Clinton Lake campers were from Douglas County as well as nearby Shawnee, Leavenworth, Johnson and Wyandotte counties.
"We're from Topeka, so it was only a 30-mile drive for us," said Barry Adams, a full-time employee at the Kansas Army National Guard office in Topeka. "But we couldn't go much farther than this," he said, noting the high price for gasoline.
Adams, his wife, Karen, and their children planned to return to Topeka on Sunday morning.
"We're here to relax," Adams said, "and enjoy all this beautiful weather."
Earlier this week, the American Automobile Assn. said an estimated 30.9 million Americans were expected to drive more than 50 miles from their home this weekend. That's 1 million more than in 2003.
"We've knocked down that barrier, that psychological $2 mark," explained AAA spokesperson Dawn Duffy.
The average price for a gallon of unleaded regular was $2.02 Wednesday in Lawrence, AAA said. A year ago, the average was $1.51.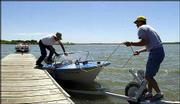 Still, people are taking road trips, Duffy said, because they feel entitled to a vacation and because time with family has become so valued.
That was news to Peter Chronister, a Leawood firefighter, seated with his wife, Michele, at a shaded picnic table beside their camper at Clinton Lake.
"We normally go on a two-week trip every year," he said. "We won't be doing that this year. Not with $2 gas."
Seated nearby, Lester Kaiser, a Fort Riley firefighter who lives in Lincolnville, said he had called off a summer trip to Pennsylvania.
"That's been nixed," he said. "I called my relatives out there and they're predicting gas will be $2.25 there this summer. Forget that."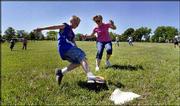 Instead, Kaiser said he and his wife, Barbara, and their daughter, Brandy, planned to spend most of their summer weekends at Marion Reservoir, a 20-minute drive from Lincolnville.
The Kaisers and Chronisters were part of an informal cluster of firefighters who've spent the past few Memorial Day weekends at Clinton Lake.
The group includes firefighters from Leawood, Fort Riley, Topeka and Tonganoxie.
"There are about seven of us," Kaiser said.
"We don't have anything scheduled," Chronister said. "I'm going to take a nap at 2 o'clock. That's about it."
Today¢ The Mo-Kan VW Club free car show opens at 7 a.m. at the Douglas County Fairgrounds, 21st and Harper streets, and continues through Sunday.¢ A ceremony commemorating the addition of three names to the Douglas County Vietnam Memorial will be at 9 a.m. at the Samuel J. Churchill Army Reserve Center, 21st and Iowa streets.¢ American Legion Post 14, 3408 W. Sixth St., plans an open house from 11 a.m. to 2 p.m. with TV viewing of the dedication of the World War II Memorial in Washington, D.C. Veterans are expected to attend the public event.¢ The Pinckney Neighborhood Assn. picnic will be from 11:30 a.m. to 1:30 p.m. at Clinton Park, Fifth and Alabama streets.Sunday¢ There will be a dedication of the Heritage Garden and an opening ceremony for the city of Lawrence's sesquicentennial celebration from 2 p.m. to 4 p.m. at Hobbs Park, 10th and Delaware streets.Monday¢ American Legion Post No. 14 of Lawrence plans a Memorial Day ceremony at 10 a.m. at Oak Hill Cemetery, 15th Street and Cadet Avenue.¢ The Veterans of Foreign Wars ceremony will be at 11 a.m. at Memorial Park Cemetery, 15th Street and Cadet Avenue.¢ Clinton Cemetery's Memorial Day starts at 11:30 a.m. The address will be given by the Rev. Mike Birney of Clinton Presbyterian Church.
Copyright 2018 The Lawrence Journal-World. All rights reserved. This material may not be published, broadcast, rewritten or redistributed. We strive to uphold our values for every story published.