DETROIT — A deathbed confession by a Pennsylvania Teamsters official and scientific tests that may have detected blood in a house in northwest Detroit could help authorities solve the 1975 disappearance of Teamsters boss Jimmy Hoffa.
Or, maybe not.
A biography due in bookstores Tuesday says Frank "The Irishman" Sheeran helped lure Hoffa to the Detroit house in July 1975 and then shot him twice in the head. The book says Sheeran, a longtime Hoffa loyalist, betrayed his friend because mobsters would have killed him if he hadn't killed Hoffa.
"My friend didn't suffer," Sheeran said in the biography, titled "I Heard You Paint Houses: Frank 'The Irishman' Sheeran & The Inside Story of the Mafia, the Teamsters & the Last Ride of Jimmy Hoffa." The Free Press was given an advance copy.
Meanwhile, the Fox News Channel reported Friday that a forensic team it hired in late March found "indications" of blood on the hardwood floor and baseboard of the home.
Deputy Oakland County Prosecutor James Halushka and Capt. Kirt Bowden of the Bloomfield Township Police Department led a forensic team to the house Friday morning. They left two hours later with three sections of floorboards from the vestibule and hallway. The FBI will test the sections for human blood and for DNA to compare with Hoffa's.
"I think it would be a miracle if we matched anything garnered from that house to Hoffa's DNA," Oakland County Prosecutor David Gorcyca said Friday. He said it was even more unlikely that criminal charges would result from the DNA tests or from Sheeran's biography.
But he said he was obligated to pursue the latest leads.
Some Hoffa experts are excited about the developments.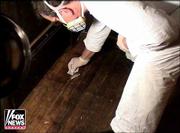 "This could be the biggest break in the Hoffa case since he disappeared," said Dan Moldea, a Washington author who chronicled the rise and fall of the legendary Teamsters official in his 1978 book, "The Hoffa Wars."
But others, including former FBI agents who worked the case, voice skepticism.
"There have been so many of these leads and none of them have panned out," said Joe Finnigan, a retired FBI agent who supervised the squad that investigated Hoffa's disappearance. "It's interesting, but I'm very skeptical."
Hoffa, 62, vanished on July 30, 1975, from the parking lot of the Machus Red Fox restaurant in Bloomfield Township, Mich. He went there to meet with Detroit Mafia captain Anthony Giacalone and Anthony Provenzano, a New Jersey Teamsters official.
The FBI has long suspected that Provenzano henchmen -- brothers Thomas and Stephen Andretta and brothers Gabriel and Salvatore Briguglio -- killed Hoffa to prevent him from regaining the Teamster presidency and cutting off mob access to union pension funds. The FBI considered Sheeran a suspect, but didn't think he killed Hoffa.
Sheeran, 83, died Dec. 14, 2003, at a nursing home in suburban Philadelphia.
Copyright 2018 The Lawrence Journal-World. All rights reserved. This material may not be published, broadcast, rewritten or redistributed. We strive to uphold our values for every story published.