Nashville, Tenn. — It's tough for scholars to be taken seriously when their subject is a TV show about a California blonde fighting evil in a high school built on a gateway to hell.
Particularly when the title is as campy as "Buffy the Vampire Slayer."
But enough professors and writers study the comedic drama and its spinoff, "Angel," to hold a deadly serious academic conference here this weekend attracting more than 325 people.
Buffyologists from as far away as Singapore were presenting 190 papers on topics ranging from "slayer slang" to "postmodern reflections on the culture of consumption" to "Buffy and the new American Buddhism."
There was even a self-conscious talk by David Lavery, an English professor at Middle Tennessee State University, on Buffy studies "as an academic cult."
Lavery and Rhonda Wilcox, a professor at Gordon College in Georgia, were co-hosts of the conference and are known as the "father and mother" of Buffy studies. They acknowledged they've endured a lot of ridicule from colleagues, but said that was part of the topic's allure.
"It keeps the uncool people away. If you can't get past the title you have no business watching," said Lavery, who co-wrote a book on Buffy with Wilcox.
"It's a badge of honor," said Wilcox, adding that the feeling is similar to a central theme of the show. "The main characters are outsiders. Others are looking at them funny, but they know they're doing the right thing so they do it anyway."
When Wilcox first heard the show's title, she thought "it would either be stupid or the anti-stupid. Within the first few minutes I realized how wonderful and clever it was."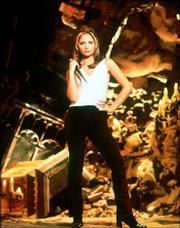 Wilcox, who wrote her doctoral thesis at Duke University about Charles Dickens, compared the show's depth and texture to his 19th century serial novels. "I think it's a great work of art."
It's also become quite a teaching tool.
College courses across the globe are devoted to the show, which was canceled last year, and secondary schools in Australia and New Zealand also provide Buffy classes. Episodes often are used to reach troubled teens, Lavery said.
Geraldine Bloustien, a professor who teaches Buffy among classes on communication studies and media production at the University of South Australia, coordinated a similarly popular academic Buffy conference last year in Adelaide.
"It's fascinating that here is a piece of television enjoyed all over the world," she said. "It has a coherence and a depth I hadn't seen for such a long time. It's like 'Sesame Street,' which you can appreciate on several levels."
About a dozen scholarly books on Buffy have been written, including one from the prestigious Oxford University Press coming out next year.
Copyright 2018 The Associated Press. All rights reserved. This material may not be published, broadcast, rewritten or redistributed. We strive to uphold our values for every story published.