Seattle — Rejecting the advice of some aides and Democratic strategists, Sen. John Kerry on Wednesday announced he would accept the Democratic presidential nomination at the party's Boston convention this summer even though the decision may put him at a financial disadvantage.
Kerry ignited a political brushfire last week when campaign aides conceded that he was considering delaying the effective date of the nomination so that he could raise and spend money through August, as President Bush will be able to do.
The discussion about whether to accept the nomination caused an outcry in Boston among Democrats, and Republicans were quick to accuse Kerry of seeking loopholes and technicalities to avoid federal election laws.
In a statement Wednesday, Kerry sought to end the commotion. "It is right to accept the nomination in Boston, and (we) are looking forward (to) it with excitement, energy and enthusiasm," Kerry said.
Federal restrictions prohibit campaigns from raising money after they have obtained public funds to pay for their general election activities. The public money is designed to limit spending on elections and reduce political donors' influence on presidential candidates.
This year, Bush and Kerry are entitled to receive $75 million in public funds, effective the moment they accept their respective nominations. But Democrats start their convention on July 26, five weeks before the Republicans. That means Kerry will be limited to $75 million during the crucial months of August, September and October.
Bush, whose nomination will occur the week of Sept. 2, will be able to raise and spend unlimited amounts of money through the month of August.
Kerry aides and Democratic Party strategists said the flap over the nomination had helped inform Democrats about Bush's five-week financial edge over Kerry. That alone, they said, was bound to improve fund raising.
Speaking to a crowded ballroom of fund-raisers Wednesday in Seattle, Kerry called on them to continue giving to help bridge that August gap.
"I believe it's right for us to have a good convention, to nominate, to speak to the country, to have finality to the process of nomination," Kerry said.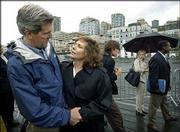 Copyright 2018 The Lawrence Journal-World. All rights reserved. This material may not be published, broadcast, rewritten or redistributed. We strive to uphold our values for every story published.