KANSAS CITY, KAN. — Only a few weeks short of graduation from Kansas University, Andy Marso was fighting for his life.
And Sunday, when classmates donned caps and gowns for the rituals of commencement, he was still too ill from the damage done by bacterial meningitis to leave the hospital.
But Tuesday he received his diploma from Chancellor Robert Hemenway, who paid a special visit to University of Kansas Hospital, in Kansas City, Kan.
"His struggle, his bravery, his courage, is very much on everyone's minds. He is a true Jayhawk," Hemenway said.
Hemenway first read aloud from Marso's diploma, a bachelor of arts and sciences in journalism. Then the chancellor commended him for his work as a student and for his fight against the illness.
After the presentation, Marso was too overwhelmed to speak. His mother, Ginny Marso, spoke for the graduate.
"Andy would like to thank everyone for their prayers," Ginny Marso said.
Marso was diagnosed April 28 after his friend Clay Britton took him to Watkins Health Center at KU's Lawrence campus. Marso was then life-flighted from Lawrence Memorial Hospital to University of Kansas Hospital.
Marso was taken off a respirator last week. Now, doctors say he has overcome the meningitis but still has a long road to recovery ahead of him.
"His fingers and toes are severely compromised. He will almost certainly have amputations of some parts to most of his digits," said Thomas Lawrence, chief of plastic surgery at University of Kansas Hospital.
Doctors credited Britton with saving Marso's life.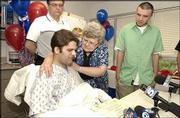 "Clay, he's the one who actually saved his life, in a sense. Because he picked him up and got him over there. If it would have been a few hours later, it would have been too late," said William Barkman, chief of staff at the University of Kansas Hospital.
Britton lived with Marso in Pearson Scholarship Hall. Britton said he found Marso sick in his room, with skin "of a different color."
"It's a little crazy just to think about knocking on his door and then peeking through his door and then him being wheeled in here accepting his diploma a month later," Britton said.
The illness apparently didn't dull Marso's journalistic instincts.
"Yesterday he asked his occupational therapist to try to find a way he can begin typing so he can write about what's happened to him. But he's always tried to take charge of his care, and I think that's been instrumental in seeing him through this," Ginny Marso said.
Copyright 2018 The Lawrence Journal-World. All rights reserved. This material may not be published, broadcast, rewritten or redistributed. We strive to uphold our values for every story published.