Florence, Italy — Michelangelo's "David" is brighter but hardly spotless after the completion Monday of a controversial cleaning timed for the 500th birthday of one of the marvels of world art.
Some pale yellow streaks on the left shin and violet-tinged mold stains on the lower back resisted a "minimalist" restoration of the Renaissance genius' depiction in marble of naked male beauty.
The cleaning of the towering masterpiece stripped away the grimy, gray patina of decades of dirt and soaked up damaging deposits of chalk in the marble's pores.
Work resumed in September after an aborted start when the original restorer quit in a dispute about how the statue should be cleaned, sparking alarm from restoration watchdogs abroad, led by Columbia University professor James Beck.
As rays of sun bathed "David" in a warm light Monday under the dome of Florence's Accademia Gallery, Antonio Paolucci, head of the Renaissance city's museums, told reporters the restoration was a "minimalist intervention" that used "harmless, very light substances," such as distilled water and rice paper.
"'David' is still itself, only what has changed is his luminosity," said restorer Cinzia Parnigoni, who had toiled atop scaffolding for months, applying "mud packs" of cellulose pulp and clay to soak away the dirt as tourists gawked.
Now, the statue seems "less cold" than when it was covered with dust and dirt, Parnigoni said in an interview with The Associated Press. Darkened by grime, "'David' had lost its verve," she said.
One of the biggest critics of the restoration was Beck, whose fame as an art world bugbear was sealed two decades ago when he denounced the restoration of Michelangelo's frescoes in the Sistine Chapel as too harsh because of the dramatic hues that emerged. He did not immediately return calls for comment Monday.
The 13 1/2-foot-tall depiction of the young biblical hero who braved Goliath attracts 1.2 million admirers a year.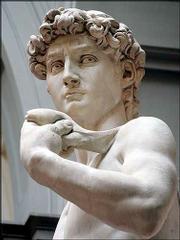 Copyright 2018 The Associated Press. All rights reserved. This material may not be published, broadcast, rewritten or redistributed. We strive to uphold our values for every story published.