Boston — Dozens of gay couples rushed to tie the knot at chapels, parks and beaches Thursday across Massachusetts as the end of the three-day waiting period under state matrimonial law led to a marathon of same-sex weddings.
The Rev. Kim Crawford Harvie had barely retreated down the aisle with her wife of five minutes when she donned her robes and got back to work at Arlington Street Church in Boston, marrying gay couples in assembly-line fashion.
"OK, I'm ready for my next couple!" said Harvie, 46, who married her partner of seven years, Kem Morehead, at the Unitarian Universalist church. The church planned to marry nearly 50 couples Thursday.
Massachusetts law establishes a three-day waiting period between applying for a marriage license and getting married. However, dozens of couples obtained a court waiver of the waiting period and were married promptly after Massachusetts on Monday became the first state to allow same-sex couples to wed.
The new round of nuptials came as Gov. Mitt Romney took the first steps toward blocking town clerks from issuing licenses to out-of-state gay couples, which the Republican governor says is prohibited by state law.
Romney referred the applications of 10 out-of-state couples to Atty. Gen. Tom Reilly.
Romney said licenses would not be recorded for nonresident gay couples -- an action that a gay rights attorney said could trigger a lawsuit.
"It is an aggressive move that denies the validity of a marriage," said attorney Mary Bonauto, who represented seven gay couples in the landmark lawsuit that led to the legalization of same-sex marriage in Massachusetts.
The legal maneuverings did not stop gay couples from out of state from saying their I do's Thursday.
Provincetown -- a gay tourist spot on Cape Cod that is one of four municipalities that have openly defied the governor by issuing licenses to out-of-state couples -- was the site of weddings on Thursday for couples from as far away as Florida.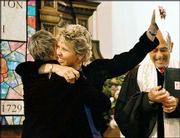 Copyright 2018 The Associated Press. All rights reserved. This material may not be published, broadcast, rewritten or redistributed. We strive to uphold our values for every story published.