A Lenexa man was in critical condition this afternoon following a three-vehicle morning accident on the Kansas Turnpike where he was ejected from his car, according to the Kansas Highway Patrol.
David N. Sanford, 54, was taken by air ambulance to KU Med, where he went into surgery early this afternoon after suffering head and internal injuries, said Highway Patrol Capt. Mark Convoy.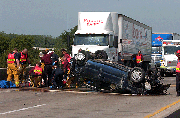 Drivers in the other two vehicles were not injured, Convoy said.
The accident occurred at 9:56 a.m. about a mile east of the East Lawrence turnpike exit on the Seventh Street Bridge.
Sanford was driving east in the right lane when he attempted to move into the left lane, then lost control, hit the barrier wall, and came back onto the highway. His car, a 2001 Chevrolet four-door, was then hit by a 1995 International semi tractor-trailer, which was driven by Philip L. Solinger, 48, McCloud, Okla.
That collision caused Sanford's car to flip over and come to rest on its top in the middle of the lanes, Convoy said. Sanford was not wearing a seatbelt and was ejected from his car. Convoy said.
A third car, a 1998 Pontiac two-door driven by Andrew Morgan, 22, Manhattan, collided with debris from Sanford's car, the state trooper said.
The turnpike was blocked for 56 minutes while officials worked the accident, Convoy said.
Copyright 2018 The Lawrence Journal-World. All rights reserved. This material may not be published, broadcast, rewritten or redistributed. We strive to uphold our values for every story published.