The days of nurses and other staff members trying to read the handwriting of doctors are over at Lawrence Memorial Hospital.
The hospital's board of directors on Wednesday received an update on a $5 million project that eliminated paper medical charts and replaced them with computers.
Patients no longer will have medical charts hanging from their beds under the high-tech system, which began Tuesday. The hospital has been equipped with about 200 wireless laptop computers that can be wheeled from room to room. Nurses and doctors enter patients' medical information into a computer instead of writing it on a chart.
Janice Early-Weas, director of community relations for LMH, said the new system should allow the hospital to operate more efficiently and improve patient safety.
"When you are relying on people's handwriting, it can create problems," Early-Weas said. "Medical errors often occur because of human error. Sometimes it can be something as simple as misreading someone's handwriting or somebody using an odd abbreviation."
The system also can alert doctors and staff members to information such as whether a patient is allergic to a certain medication.
It also is expected to save time. Early-Weas said it was estimated that for every hour of patient care, a staff member would spend almost an hour adding information to a medical chart. She said it was unknown how much time the new system would save.
"But we know that people can type faster than they can write, so we're confident it will save time that can be devoted to patient care," Early-Weas said.
LMH is among a small but growing group of hospitals in the country that has converted entirely to electronic record keeping, said Tom Pagano, the hospital's chief information officer.
He said the system should allow the hospital to extend its reach into the community. For example, the system can be accessed by doctors from their home or office, which will allow them to better address medical issues when they're away from the hospital. By the end of 2005, the system should be upgraded to allow medical images, like X-rays, to be transmitted electronically to doctor's homes or offices.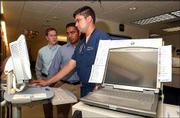 Pagano, though, said the biggest benefit might be that several people could look at a patient's record at the same time. Under the chart system, if a patient's chart was in the laboratory, a doctor in the patient's room couldn't access it.
"The paper chart was demanded by a lot of people in the hospital at the same time, and that created a lot of work flow issues," Pagano said.
The new system does create security concerns. Pagano said the hospital had taken a variety of measures to prevent people from hacking into the system and obtaining confidential information.
"Security is a huge issue, but we feel very good about all the levels of security we have," Pagano said.
Pagano said the patient information was heavily encrypted and passwords were changed frequently.
LMH worked with Kansas City, Mo.-based Cerner Corp. to develop and install the system. Work on the program began in April 2003.
Copyright 2018 The Lawrence Journal-World. All rights reserved. This material may not be published, broadcast, rewritten or redistributed. We strive to uphold our values for every story published.