New York — Families who never stopped imagining their loved ones' last moments inside the burning World Trade Center are preparing to watch the most vivid reconstruction yet of that horrific day.
The Sept. 11 Commission comes to Manhattan this week, convening just miles from ground zero Tuesday to examine the emergency response to the disaster. The hearings will include video footage of the attack and detailed witness testimony.
"If it's really bad I'll walk out or put my head down," said Judith Jackson Reiss, whose son, Joshua, died in the north tower.
The panel has heard some heart-wrenching testimony in its 10 public hearings. But this week's is likely to be the most agonizing yet.
Some footage is said to include the sound of bodies falling from the towers.
Speakers include former Mayor Rudolph Giuliani, his fire and police commissioners and Port Authority officials who were inside the 110-story skyscrapers on Sept. 11.
Monica Gabrielle, who lost her husband, Richard, said disturbing witness reports and images are necessary for a thorough investigation.
"Until people realize the horror that occurred, I don't think they can realize the absolute necessity to get to the bottom of this and fix it," she said.
Gabrielle and many of the victims' relatives planning to attend say they regularly avoid images of the trade center attack on television and in photographs, but will watch during the hearing.
"It will tear all the family members apart, but you know what? I feel like I'm dead anyway," said Sally Regenhard, whose son, Christian, was among the 343 firefighters killed. "My heart was murdered on 9-11, so it's just going to give me more fuel to call for change."
The commission's hearings this week mark its return to the city where its first public hearing was held more than a year ago. A woman who lost her son was among the first to address them then.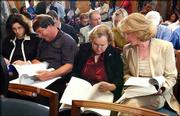 "We want answers to our questions," said Mary Fetchet, whose son Brad died in the south tower. "We want systemic failures identified and problems resolved."
Since then, some of the nearly 3,000 victims' relatives have closely tracked the proceedings and attended hearings, which have been mostly limited to Washington, D.C., and covered topics like intelligence and counterterrorism.
The number of families in the audience swelled in March when former White House counterterror chief Richard Clarke appeared before the panel, followed by national security adviser Condoleeza Rice weeks later.
Regenhard, who has been regularly involved with the commission hearings, has been rallying less active relatives of victims for this week's hearing.
Their attendance is crucial, she said, because it is "the first and last meaningful examination of what happened right here in this city."
Reiss and other victims' relatives are particularly interested in hearing Giuliani, who is scheduled to testify on the second day of the hearing, in part about whether U.S. officials gave him intelligence about possible terrorist threats to New York buildings.
Many who lost loved ones recall watching Giuliani on television in the weeks after Sept. 11, when they were still in shock. They remember him warmly, as a force of stability through the chaos, but this week they want an unflinching look at the city's handling of the disaster.
"He was admirable, and I hope that when he testifies he does the same," Reiss said.
Among other things, they hope to hear about radio and communications failures between the fire and police departments, evacuation procedures in the towers and emergency plans or lack thereof among city officials. They don't want the hearings to become self-congratulatory.
"I'm sick and tired of going to these hearings and being told what improvements they've made since 9-11," said Bill Doyle, whose son died. "I want to know what happened before and on 9-11 -- I want to know who dropped the ball."
Copyright 2018 The Associated Press. All rights reserved. This material may not be published, broadcast, rewritten or redistributed. We strive to uphold our values for every story published.