Lecompton — More than a dozen third-graders galloped and hopped around Mary Lyons' classroom last week as strains of the "William Tell Overture" filled the air.
The music suddenly stopped, and each giggling student lunged -- musical-chairs style -- for the nearest desk, where a dictionary was waiting. They panted from the exertion while awaiting instructions to look up words such as "flabbergasted" and "remarkable."
Just another vocabulary lesson at Lecompton Elementary School.
"It can get a little wild," Lyons said.
That's the point. Lyons' students are participants in Physical Activity Across the Curriculum, one of two Kansas University programs aimed at combating the worsening epidemic of obesity in America and the world.
"There's a growing obesity problem; it's across the board," said Katrina DuBose, who helps oversee the project for KU's Schiefelbusch Institute for Life Span Studies. "It doesn't matter if you're a child, an adult, a teen. It's just rampant across the population."
Changing behaviors
The National Institutes of Health estimates that one-third of all American adults are obese, and roughly 15 percent of children are overweight.
But the chances of becoming an overweight adult, KU researchers say, are reduced when children learn healthy eating and exercise habits early in life.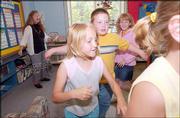 "Part of obesity is biological, and part of it is behavioral," said Ric Steele, a KU assistant psychology major who runs Positively Fit, the second KU anti-obesity program. "We can help change the behaviors."
Steele's program takes a therapeutic approach, targeting children 7-17 who are already overweight. Researchers teach children and their families to increase their physical activity and to eat healthfully.
"We don't feel it's likely a kid will change by him or herself," Steele said. "The change occurs in the family context."
The children and parents meet for two hours a session, with one session a week for 10 weeks. Steele said preliminary results showed the 90 children who have been in the program have seen a 10 percent decrease in body mass index, a measure of body fat based on height and weight, at the end of the program.
The next step, he said, was to find out whether children and their families continued healthful habits after the training program was over.
"There's some evidence," Steele said, "that these kids are doing better."
In the classroom
Physical Activity Across the Curriculum, meanwhile, gets youngsters active by combining physical activity with academics. In the 14 schools participating in the study, teachers are asked to lead their students through 100 minutes a week of jumping jacks, lunges and marching during lessons about math, spelling and vocabulary.
"You can apply movement to almost any subject matter," DuBose said, adding: "It doesn't need special clothes, you don't need a special place."
DuBose said such techniques would be particularly helpful in schools where physical education classes were becoming less frequent and recess periods were getting shorter, shoved aside by other academic requirements.
And educators at Lecompton -- where the program is used with more than 100 students in second through fourth grades -- said the program helped break up the monotony of a school day for children eager for a chance to get away from their desks.
During Lyons' vocabulary lesson, for example, the students gave a soft cheer when the music started.
"The kids enjoy it," Principal Denis Yoder said. "They've come to expect it. Teachers see the benefits."
Benefits
Those benefits, according to researchers in the two programs, may include better academic performance and increased self-esteem among the children.
"We feel like kids are more confident," Steele said. "We don't have hard data to indicate that -- but some of our kids tell us they are more able to participate in their P.E. programs. They're more capable and more confident."
Lyons said that spelling test scores among her students have increased to the best she's seen in 25 years of teaching.
"People who have trouble tuning in do a better job," she said.
It's also fun and healthy.
"The kids are more animated, more involved," Yoder said. They're up, and their hearts are pumping faster."
Copyright 2017 The Lawrence Journal-World. All rights reserved. This material may not be published, broadcast, rewritten or redistributed. We strive to uphold our values for every story published.