Houston — Mike Piazza waited until the brink of defeat to ruin Roger Clemens' afternoon.
Piazza spoiled Clemens' bid for his eighth straight win with a tying homer in the ninth inning off Octavio Dotel, and the New York Mets beat the Houston Astros, 3-2, Sunday on Jason Phillips' 13th-inning home run.
"We had the right guy up at the right time," Mets manager Art Howe said. "You've got to give Mike all the credit in the world. That's big-time. Two outs and two strikes in the ninth inning. We might have stolen this one."
After Clemens struck out 10 in seven shutout innings, the Mets rallied in the ninth against Dotel. Eric Valent led off with a double, and, two outs later, Piazza hit a 1-2 pitch over the right-center fence and into the Astros' bullpen to tie it.
That ended Clemens' chance to become the first pitcher since Boston's Pedro Martinez in 1997 to win his first eight starts of the season. Dotel blew his second save in three outings.
The Rocket allowed only two hits and singled with the bases loaded in the sixth, the fifth RBI of his career. He lowered his earned-run average to a major league-leading 1.72.
"There's no doubt he was dominating us," Piazza said. "Anytime you've got a chance to win the game, it's a good feeling. Fortunately, I got a pitch to hit, and I didn't miss it."
A sellout crowd of 43,247 came out for one of Clemens' most dominant performances in a remarkable comeback season. In their head-to-head matchup, Piazza went 0-for-2 with a strikeout and a walk -- the only one Clemens allowed.
Clemens brought a little heat to their simmering rivalry: He threw a 92 mph fastball high and inside to Piazza in the second, forcing the All-Star slugger to take a step back.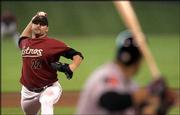 Clemens beaned Piazza during the 2000 season, then threw the barrel of a broken bat near him in the World Series that year.
Playing first base, Piazza tagged Clemens out on a bunt in the second. After Clemens' single, the two didn't speak during a pitching change, with Piazza chatting with first-base umpire Mark Wegner instead.
Clemens didn't have much to say about Piazza afterward.
"I think he's a good hitter. You have to pitch him away," Clemens said before bolting quickly out of the clubhouse.
Phillips, who has struggled all season and didn't enter the game until the 10th, connected against Brandon Backe (1-1) for his first home run since Aug. 20.
Brewers 4, Braves 1
Milwaukee -- Ben Sheets struck out a franchise-record 18 -- the most in the majors in three years -- to lead Milwaukee past Atlanta. It was the most strikeouts by a big-league pitcher since Arizona's Randy Johnson tied a major-league record with 20 on May 8, 2001, against Cincinnati. Sheets' previous career high was 10 strikeouts against Houston on April 10 and May 5 against Cincinnati. The previous franchise mark of 14 was set by Moose Haas on April 12, 1978, against the New York Yankees.
Marlins 3, Cardinals 2
St. Louis -- Brad Penny worked six solid innings, and Juan Pierre hit a two-run double to help Florida avoid a three-game sweep. Jim Edmonds hit his ninth homer for the Cardinals, who wrapped up a 4-2 homestand -- their first winning homestand of the season. Penny (4-2) allowed one run and five hits in six innings, winning for the fourth time in five decisions.
Rockies 7, Phillies 6
Denver -- Jeromy Burnitz drove in the tiebreaking run with an infield single in the eighth inning and had four RBIs, helping Colorado end a three-game losing streak with a victory over Philadelphia.
Cubs 4, Padres 2
San Diego -- Jose Macias hit a tiebreaking home run off David Wells, and Michael Barrett also connected to lead Chicago over San Diego for a three-game sweep. The Cubs won their fourth straight game, moved into a tie with Houston atop the NL Central and outhit the Padres in their new ballpark. Sammy Sosa hurt himself when he sneezed twice before the game and sat out with back spasms.
Pirates 8, Giants 1
San Francisco -- Rob Mackowiak homered twice and drove in four runs to help Pittsburgh complete a rare three-game sweep in San Francisco. The Pirates hadn't swept a series in San Francisco since winning a five-gamer in September 1996.
Reds 6, Dodgers 3
Los Angeles -- Adam Dunn had his first three-hit game of the season, including a two-run double, and Cincinnati completed its first three-game sweep of the year with a victory over Los Angeles.
Expos 6, D'backs 1
Phoenix -- Livan Hernandez pitched a six-hitter for his second complete game in 10 days, helping Montreal beat Arizona to complete its first series sweep of the season. Hernandez (3-2) walked two and struck out seven for his 33rd complete game.
Copyright 2018 The Associated Press. All rights reserved. This material may not be published, broadcast, rewritten or redistributed. We strive to uphold our values for every story published.