Central Junior High School is doing art for heart.
It's another in a string of fund-raisers to help 12-year-old Rose Naughtin, a student at the school who recently received her second heart transplant in eight years.
"So far things are looking pretty good, and Rose is doing really well," said her mother, Paula Naughtin.
But Rose faces several months of close medical monitoring to make sure the new heart she received in April continues to function properly, her parents said.
Though the Naughtins have medical insurance, it doesn't pay for everything. The family will make many trips to St. Louis Children's Hospital, where doctors keep an eye on the body's acceptance of the heart.
Through it all, there have been several fund-raisers to assist the family with expenses, including a live music benefit Sunday at Liberty Hall. At the same time, Central Junior High School art students are in the process of auctioning off "trash can art" to help their classmate.
Rose Naughtin attended the music benefit Sunday, and said she was a little overwhelmed with all of the attention. The benefit was organized by Walter Morris, a schoolmate.
"I didn't think it would happen," Rose said. "It's pretty hard to get something like this put together."
Art on aluminum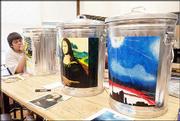 Rose and her parents said they had not had a chance to return to Central to see the trash can art.
"We hope to do that sometime this week," John Naughtin said.
Over the past couple of weeks, ninth-grade advanced art class students have been painting replicas of famous artworks on aluminum trash cans. Students painted trash cans last year as part of a school beautification project, their teacher, Lisa Clipsham, said.
"The kids liked it so much we wanted to do the project again this year, and when Rose's situation came up we decided to assist them," Clipsham said.
Last week, Marrisa Carley and Elise Sechler were working together to paint a portrait of a woman with long, dark hair on their trash can. It was from a portrait done by Mexican artist Diego Rivera. Copying a famous artist's work wasn't easy, the girls said.
Another art benefit for Rose Naughtin and her family is scheduled for May 26 at the Olive Gallery & Art Supply, 15 E. Eighth St.Artists willing to donate their work for the "Art for Rose" benefit show and sale can contact Deb Rake, at 749-4665 or deb_rake@sunflower.com, or Holli Joyce, at 832-8459 or joyceworks@aol.com.Up to Sunday, fund-raisers for the Naughtins had raised about $15,000, Rake said.
"It's really hard to get the colors right," Marrisa said.
Steven Gonce and Jesse Edwards agreed. The two students were painting a replica of a Henri Rousseau piece that depicted an old man riding on the back of a tiger.
"It's complicated when you have to do the difficult shades," Steven said.
Sixteen trash cans are on display at the school. Bids are being taken for their sale through a silent auction. A minimum bid of $40 is required. The display and auction will continue through Friday. The highest bidder will be notified.
Recovery
A middle-of-the-night phone call in early April brought the news to the Naughtins that a donor heart had been found for Rose. Although she had been through the process before, the second time wasn't less difficult, Paula Naughtin said.
"It doesn't get any easier emotionally, but we have a better understanding of what happens," she said.
Since the transplant, the Naughtins have been traveling to St. Louis each week for tests. Now that will decrease to every other week. During the next several months doctors will make adjustments to Rose's medications as necessary.
"She still tires pretty easily," Paula Naughtin said of Rose. "She'll probably be starting a cardiac rehab program in the next week. They are just building her strength back up."
Through it all, the Naughtins said they had been overwhelmed by the community's support.
"It's been fabulous," Paula Naughtin said. "We are just so grateful to all of the people that we know and those that we don't know."
When she is away from home, Rose stays in contact with her friends through e-mail and instant messaging.
"Her friends have really been a lot of support," Paula Naughtin said. "She enjoys getting on the computer with them. She couldn't do that the first few weeks."
Copyright 2018 The Lawrence Journal-World. All rights reserved. This material may not be published, broadcast, rewritten or redistributed. We strive to uphold our values for every story published.