Los Angeles — Most video game fanatics aren't going to be satisfied with the latest crop of snazzy games: They want better gadgets, too.
Whether they were banging digital drums or playing "Half-Life 2" with pricey new graphics cards, attendees of last week's Electronic Entertainment Expo got to check out hundreds of new game-enhancing accoutrements.
With no successors to the Xbox, GameCube and PlayStation2 consoles this year, Nintendo Co. and Sony Corp. touted new hand-held game systems.
Sony's PlayStation Portable, nicknamed PSP, features a 4.3-inch color screen, stereo speakers and wireless Internet for multiplayer games. Though as small as a thin paperback book, it's nearly as powerful as the full-sized PlayStation 2, with music, video and 3-D graphics capabilities.
The PSP will be available in Japan by the end of the year, followed by Europe and the United States in the spring of 2005. A price hasn't been set.
Nintendo will try to strengthen its grip on the hand-held market with the Game Boy DS. The silver-and-black device flips opens like a clamshell and has dual 3-inch color screens -- that's the "DS" in its name -- for all sorts of new game possibilities.
In one game, "Metroid: Prime Hunters," the bottom screen showed the in-game action while the top displayed a map to help players navigate. The DS has Bluetooth and Wi-Fi for multiplayer games and plays existing Game Boy Advance cartridges along with a new format. The company disclosed no price or release date.
Game Boy, meanwhile, is getting GPS satellite-tracking capability from a Canadian outfit, Red Sky Mobile Inc. But the system costs $199, double the price of a Game Boy Advance. As of yet there are no games that use the technology.
And from Majesco Sales Inc. comes Game Boy Advance Video -- $19.99 special cartridges for children to watch entire episodes of SpongeBob SquarePants, Sonic X and other favorites.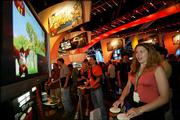 SL-Interphase of Tucson, Ariz., meanwhile, put an oversized spin on hand-held game machines with its Rogue prototype. The size of a tablet PC, the system sports a Pentium 4 processor with a 10.4-inch color touch-screen, wireless capability, a trackball and plenty of buttons for waging online battles just about anywhere. Plug the Rogue into a dock, and you have a regular desktop computer.
Sales of video game accessories have been relatively flat, accounting for $1.2 billion in 2003, according to market research firm The NPD Group. But each year, companies continue to roll out new items.
Focus on exercise
Many controllers at the E3 show encourage gamers to put down the potato chips and get off the couch.
On the heels of Sony's popular EyeToy video camera game comes the DK Bongo drum controller for the GameCube. One game for it, "Donkey Konga," is a frantic palm-slapping test of timing and rhythm. Players can pound away to more than 30 children and popular tunes alongside Donkey Kong. Parents, be forewarned: earplugs aren't included.
Cateye Fitness showed GameBike, a stationary exercise bicycle that plugs into any PlayStation and allows you to control games by steering and pedaling.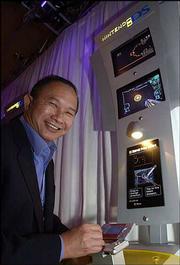 Powergrid Fitness Inc. had the kiloWatt Intensity Game System. Instead of letting you sedately kick back and munch a bag of chips while you blast aliens, the kiloWatt forces you to push against a mounted controller through 20 levels of resistance.
Not to be outdone by these workout machines, the $250 QMotions-Golf Indoor Golf Simulator lets you hit the links in your living room. You test your swing by whacking a golf ball mounted to a swing arm that you connect to your computer. Golf clubs not included.
Latest in PC games
A few manufacturers pushed to move PC video games into the living room.
Several companies announced deals with Digital Interactive Systems Corp. to make video game consoles that play PC games on televisions, just like Microsoft Corp.'s Xbox or the PlayStation 2. Alienware Corp.'s Digital Home System and Apex Digital Inc.'s ApeXtreme Game Console should be available this summer.
The long-rumored Phantom Game Console from Infinium Labs Inc. finally made an appearance. The white set-top box runs a version of Windows XP and requires a broadband connection so you can order PC games on demand. The company plans to offer the Phantom for free -- with a two-year commitment to its $29.95-a-month game service.
For enthusiasts who don't mind prying open their computers, ATI Technologies Inc. and Nvidia Corp. had a new round of competing video cards to boost graphics quality. For about $500, both ATI's X800 XT and Nvidia's GeForce 6800 boast visuals approaching those found in computer-animated films such as "Finding Nemo."
Copyright 2018 The Associated Press. All rights reserved. This material may not be published, broadcast, rewritten or redistributed. We strive to uphold our values for every story published.