Topeka — The celebration of the 50th anniversary of the Brown v. Board of Education civil rights case will "mark a day that changed America for the better and forever," President Bush said today.
The president spoke for about 14 minutes during today's dedication of the Brown v. Board of Education National Historic site. He addressed a gathering of about 5,000 people at the refurbished Monroe Elementary school that was once an all-black segregated school.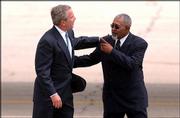 "Fifty years ago today, nine judges announced that they had looked at the Constitution and saw no justification for the segregation and humiliation of an entire race," Bush said. "Here on the corner of 15th and Monroe, and in schools like it across America, that was a day of justice, and it was a long time coming."
But Bush said America still faces challenges.
"The habits of racism in America have not all been broken," he said. "The habits of respect must be taught to every generation." He said laws against discrimination should be vigorously enforced.
"While our schools are no longer segregated by law, they are still not equal in opportunity and excellence," Bush said. "Justice requires more than a place in a school. Justice requires that every school teach every child in America."
The president, addressing a gathering that included some of the people who had been involved in the historic case, talked about all the children who had to endure racial slurs as they made the walk into newly integrated schools.
"America is still grateful to every child that made that walk," Bush said.
Bush arrived on Air Force One about 12:30 p.m., landing at Topeka's Forbes Field. The presidential motorcade arrived shortly after 1 p.m. at the historic site and the president began speaking after a short introduction. After his remarks, he posed for photos with several of those in attendance.
In addition to Bush's speech, other dignitaries at the event included numerous national and local political leaders.
Deborah Dandridge, a Kansas University librarian, grew up going to segregated schools in Topeka and is a good friend of Linda Brown, the lead plaintiff in the Brown lawsuit.
Dandridge said she was thrilled to be at the event.
Of the Brown decision, Dandridge said, "It laid the foundation and once again places Kansas at the center of the issues of equal rights and freedom."
Instrumental music at the event was provided by the 312th U.S. Army Band of Lawrence.
Many dignitaries gathered at Forbes Field in Topeka, awaiting Bush's arrival. Among those at Forbes was the Rev. Leo Barbee, pastor of Lawrence's Victory Bible Church.
-- The Associated Press contributed to this story.
Here are today's events, official and unofficial, in connection with Topeka's celebration of the 50th anniversary of the Brown v. Board decision.¢ State commemoration proclamation at 8:30 a.m. on the south steps of the Capitol. U.S. Sen. John Kerry, D-Mass., attended and made remarks that 'separate and unequal' public schools still exist. See story¢ President Bush is the key speaker at the grand opening of Brown v. Board of Education National Historic Site, 1515 S.E. Monroe St. The event starts at 10:30 a.m. and lasts about two hours. No more tickets are available. Those who already have tickets may board shuttle buses at the Kansas Expocentre, One Expocentre Drive, beginning at 8 a.m. For more information, call LaTonya Miller at (785) 354-1489, ext. 224.¢ Secretary of State Ron Thornburgh and Atty. Gen. Phill Kline will play host to a reception from 2 p.m. to 4 p.m. at Memorial Hall, 120 S.W. 10th Ave. Free and open to the public.¢ Premiere of "Now Let Me Fly" a play about Brown v. Board of Education, at 7 p.m. at the Topeka Performing Arts Center, 214 S.E. Eighth St. All tickets to the free reading are gone, but vacant seats will be filled on a first-come, first-served basis. For more information, call (785) 234-2787.
Copyright 2018 The Lawrence Journal-World. All rights reserved. This material may not be published, broadcast, rewritten or redistributed. We strive to uphold our values for every story published.