Topeka — Americans must "return to the streets" to fight for better schools and against poverty to fulfill the promise of the historic Brown v. Board of Education ruling, the Rev. Jesse Jackson said Sunday.
"Brown was a first down, not a touchdown," Jackson said during a sermon at Topeka's Mount Carmel Missionary Baptist Church.
Today marks the 50th anniversary of the Brown decision, in which the U.S. Supreme Court declared segregated schools unconstitutional. Both President Bush and Democratic presidential nominee John Kerry were to travel to the Kansas capital today to observe the anniversary.
Like other civil rights activists who gathered in Topeka during the weekend, Jackson said that while the decision represented a major legal change, the United States still fell well short of being a truly integrated -- and truly just -- society.
"The black-white gap is illegal," Jackson said during his Mount Carmel sermon. "But the gap between the haves and the have-nots is legal -- and growing."
Jackson said the Constitution should be amended to declare that a good education is the right of every child. In an interview late Saturday night, he said adequate and fair funding for all public schools is "the next big legal and legislative challenge."
"What must we do today?" Jackson said during his church sermon. "We must return to the streets."
Jackson, who founded the Rainbow/PUSH Coalition and sought the Democratic nomination for president in 1984 and 1988, arrived in Topeka on Saturday, helping activists rededicate a bridge named in honor of the late U.S. Supreme Court Justice Thurgood Marshall. He also spoke to about 200 people during a Saturday night banquet sponsored by the National Association for the Advancement of Colored People.
Jackson spoke Sunday morning at an NAACP prayer breakfast attended by about 100 people, then preached at Mount Carmel, where church officials estimated the audience at about 900 people.
"We must build a coalition of conscience with renewed urgency," Jackson said in his sermon, with the church audience repeating after him in unison. "If we don't vote and march and build a coalition across racial lines, we lose the right to criticize."
Jackson repeatedly criticized Bush and the war in Iraq, saying the president is committed to spending billions to rebuild that nation but has neglected communities like Topeka.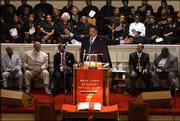 Jackson's sermon at Mount Carmel bothered the Rev. Eric Snell, pastor of the New Hope Baptist Church. Snell took issue with Jackson's criticism of Bush and his open endorsement of Kerry.
"I heard a political message," Snell said after Jackson's sermon. "He won't preach. He'll just talk politics."
Jackson touched on the same themes in all of his remarks.
He said that while excellence and hard work matter in the United States, inherited wealth continues to matter more.
He added that poverty is a universal problem because when a factory shuts down, its lights are shut off for good. "We look amazingly similar in the dark," he said.
Jackson exhorted his listeners to become involved in politics. At the beginning of his Mount Carmel sermon, he asked anyone who was eligible to vote but had not registered to come forward. About 60 people then signed voter registration cards.
Here are today's events, official and unofficial, in connection with Topeka's celebration of the 50th anniversary of the Brown v. Board decision.¢ State commemoration proclamation at 8:30 a.m. on the south steps of the Capitol. U.S. Sen. John Kerry, D-Mass., will attend. Event is free, but tickets are required to attend. Call (785) 272-4900.¢ President Bush is the key speaker at the grand opening of Brown v. Board of Education National Historic Site, 1515 S.E. Monroe St. The event starts at 10:30 a.m. and lasts about two hours. No more tickets are available. Those who already have tickets may board shuttle buses at the Kansas Expocentre, One Expocentre Drive, beginning at 8 a.m. For more information, call LaTonya Miller at (785) 354-1489, ext. 224.¢ Secretary of State Ron Thornburgh and Atty. Gen. Phill Kline will play host to a reception from 2 p.m. to 4 p.m. at Memorial Hall, 120 S.W. 10th Ave. Free and open to the public.¢ Premiere of "Now Let Me Fly" a play about Brown v. Board of Education, at 7 p.m. at the Topeka Performing Arts Center, 214 S.E. Eighth St. All tickets to the free reading are gone, but vacant seats will be filled on a first-come, first-served basis. For more information, call (785) 234-2787.
Copyright 2017 The Associated Press. All rights reserved. This material may not be published, broadcast, rewritten or redistributed. We strive to uphold our values for every story published.