New Delhi — Sonia Gandhi spent decades as a woman behind the scenes. Shy and Italian-born, she ran the household for her mother-in-law when Indira Gandhi was prime minister, choosing menus and managing the servants. She did the same for her husband when he became prime minister, after his mother's assassination.
Now, more than a decade after he, too, was slain, Sonia Gandhi is poised to become the latest in a long line of Gandhis to govern this sprawling nation.
With the ruling Hindu nationalist alliance conceding defeat, a suddenly resurgent Congress Party and its allies appear set to take over the government -- with Sonia Gandhi, 57, the most likely prime minister.
"The process of government formation will gather momentum" in coming days, Gandhi told reporters Thursday night, after results were announced from parliamentary elections. Gandhi, who won her own seat, refused to say if she would become prime minister.
It's certainly not what she expected when she arrived in India in 1968, a 21-year-old bride who didn't care much for Indian food.
"I had a vague idea that India existed somewhere in the world with its snakes, elephants and jungles," she once wrote of her early days with husband Rajiv Gandhi at Cambridge University.
Those days are over. She's been an Indian citizen since 1983 and a member of Parliament since 1999. She speaks fluent, if Italian-accented Hindi. Thousands of people turn out for her speeches.
But while Congress is likely to lead the next government, it still needs an alliance with other parties -- and whether all would accept a foreign-born prime minister isn't clear.
Party officials say she'll get the post.
"She will be the prime minister -- 100 percent," said Ghulam Nabi Azad, the Congress Party's general secretary.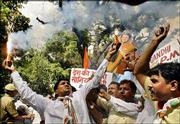 Gandhi's Italian ancestry has long been her political weak point.
During the campaign, her opponents hammered on her "foreignness" and political inexperience.
But she dismisses such attacks, telling New Delhi Television in a rare interview that being born Italian means nothing to most voters.
"I never felt they look at me as a foreigner," she said. "Because I am not. I am Indian."
And whether intentional or not, she reminds many Indians of her mother-in-law: the way she wears her sari, her habit of striding ahead of aides.
To many Indians, she remains a "videshi bahu" -- or "foreign-born daughter-in-law." To supporters, it's a term of endearment, a link to the dynasty that remains wildly popular through rural India. To critics, it's a reminder of her birth, and the power she gained through marriage.
Gandhi's son Rahul also made his political entry Thursday, winning a parliamentary seat in Amethi, the family's political stronghold. But it was her daughter Priyanka -- a young mother who wasn't even running for office -- who became a star, drawing huge crowds while campaigning for her mother and brother.
Copyright 2018 The Associated Press. All rights reserved. This material may not be published, broadcast, rewritten or redistributed. We strive to uphold our values for every story published.