Charlotte, N.C. — Fourteen years and 370 tournaments removed from his last victory, Joey Sindelar made it worth the wait Sunday in the Wachovia Championship with an improbable rally and a playoff victory over fast-fading Arron Oberholser.
Sindelar, 46, birdied two of the last three holes, waited for Oberholser to wilt, then polished him off with a par on the second extra hole for his first victory since the 1990 Hardee's Golf Classic.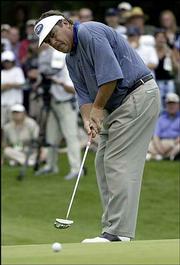 "I never, ever gave up hope," Sindelar said. "This feels way too good. It's a thrill. It will take me a while to understand this is real."
Oberholser might need some time to recover from a stunning collapse at Quail Hollow.
Two shots ahead with three to play, his first PGA Tour victory in his grasp, Oberholser was overcome by pressure.
He bogeyed the next two holes and needed a recovery from the trees on No. 18 just to force the playoff.
Sindelar closed with a 69, while Oberholser had a 72. They finished at 11-under 277.
Tiger Woods gave himself a chance with a 30-foot birdie putt on the 17th and nearly chipped in for birdie on the 18th.
He closed with a 68 and joined Carlos Franco one shot behind. Franco had a 35-foot birdie putt on the final hole that caught the right lip. He shot 70.
Phil Mickelson had a bogey-free 67, the best round of the day, to finish in a tie for fifth.
"I'm really not that disappointed," Oberholser said. "Under the pressure, under the heat I played in today, I think I did a great job."
Copyright 2018 The Associated Press. All rights reserved. This material may not be published, broadcast, rewritten or redistributed. We strive to uphold our values for every story published.