New York — Alan King, whose mix of blustery Borscht Belt-style humor and expert comic storytelling made him a wisecracking star of the stage, screen and television during a six-decade career, died Sunday in Manhattan. He was 76.
King died at Memorial Sloan-Kettering Cancer Center from lung cancer.
"He was certainly a fighter. He always was that way," Jeanette King, his wife of 57 years, told the New York Daily News on Sunday. "That's Alan's personality."
The New York-born high school dropout and son of Polish immigrants rose from the Catskills comedy circuit to stardom in the 1950s and 1960s, when he opened for legendary performers Judy Garland and Lena Horne.
King brought his Brooklyn-rooted, suburb-bashing humor to a national audience during his 93 stints on "The Ed Sullivan Show" and countless other TV appearances.
"He always talked about the annoyances of life," said comedian Jerry Stiller, a friend for more than 50 years. "He was like a Jewish Will Rogers."
It was while watching comedian Danny Thomas in the early 1950s that King decided to stop simply spouting tired one-liners and hone his skills as an often acerbic observational humorist.
With his 1955 film debut, "Hit the Deck," King began his transition to actor, producer and author. King performed in more than 20 movies, including "Bye Bye Braverman" and "Casino."
He also produced several films, was a co-owner of the Kaufman-Astoria Studios in Queens and co-wrote three books, including "Is Salami and Eggs Better Than Sex?"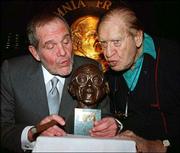 King, the longtime abbot of the New York Friars Club, bridged the worlds of vaudeville-rooted comedy and contemporary humor. Younger audiences became familiar with him through the Friars Club's bawdy roasts, shown on Comedy Central.
Born Irwin Alan Kniberg, King liked to joke that he "never knew I was poor until I was rich." He grew up on the lower East Side and in Williamsburg -- two "tough neighborhoods."
"But I was a pretty tough kid," King recalled in 1964. "I fought back with humor."
King's comedic calling came in his teens, and he quit school to learn his trade before "the monster with a thousand eyes" -- fickle audiences at Catskills hotels and seedy strip joints.
"I wouldn't want to go through it again -- except with a gun," he told The New York Daily News in 1996.
Alan and Jeanette King lived in Great Neck, Long Island, and have three children, Robert, Andrew and Elaine Ray.
"He was a very dignified man who adored what he did," Jeanette King said. "He loved the business, and he loved life. He lived it to the fullest."
Copyright 2018 The Lawrence Journal-World. All rights reserved. This material may not be published, broadcast, rewritten or redistributed. We strive to uphold our values for every story published.