Najaf, Iraq — British soldiers beat back attacks by militiamen loyal to a radical Shiite cleric in southern cities Saturday, and U.S. forces stormed Muqtada al-Sadr's stronghold in Baghdad.
Al-Sadr's militia launched attacks in Basra and Amarah in an apparent attempt to open up new fronts after another cleric called for a jihad, or holy war, against British troops and promised rewards for the capture of coalition soldiers.
Coalition forces responded to the violence with moves against officials in al-Sadr's movement, arresting his main representative in the southern city of Nasiriyah, Sheik Moayad al-Asadi.
U.S. troops backed by armored vehicles and helicopters also stormed al-Sadr's office in Baghdad's Shiite district of Sadr City, a militia stronghold, and detained three people, witnesses said.
Elsewhere, a U.S. soldier from the 2nd Infantry Division's Stryker Brigade was killed and a soldier from the Army's Task Force Olympia was wounded Saturday in a mortar attack on a coalition base in the northern city of Mosul, the U.S. command said in a statement.
A U.S. military convoy was attacked on the main highway Saturday near Abu Ghraib, destroying an SUV that burst into flames. After the attack, children cheered around the burning car, shouting "Long live al-Sadr," until U.S. troops opened fire nearby.
Witnesses said four Westerners were in the car, but no casualties were confirmed.
American troops have been stepping up their crackdown on al-Sadr in the southern holy cities where his militiamen hold sway -- Kufa, Karbala and Najaf. Intensifying skirmishes in the region have killed dozens in the past week, including 23 on Friday.
U.S. troops backed by tanks entered Karbala from two directions on Saturday, blocking roads leading to the sacred Imam Hussein Shrine at the city center. Troops traded fire with al-Sadr gunmen, and two vehicles were in flames.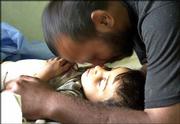 The uprising in Basra on Saturday was the strongest show of force in days, with hundreds of black-garbed and masked fighters massing on the streets and attacking passing British patrols. At least two Iraqis were killed and four British soldiers wounded, a British military spokesman said.
British troops repelled an attack on the governor's building and armored vehicles pursued large numbers of gunmen into Basra's impoverished Hanaya neighborhood. Unable to enter the district's small alleys, the Britons traded fire with militiamen firing from behind buildings.
Copyright 2018 The Associated Press. All rights reserved. This material may not be published, broadcast, rewritten or redistributed. We strive to uphold our values for every story published.