For this Mother's Day, Queen Shorter received an early and unexpected gift.
While getting ready for a family get-together, Shorter's husband, Collins, discovered the family barbecue grill had gone to the birds.
Literally.
When Collins Shorter went to clean the grill Thursday night, he got quite a shock when a blackbird came flying out at him.
Inside the grill was a nest made of straw. It held six eggs.
The size of the nest was impressive, considering the only opening in the grill was about a 2-inch hole on the front.
Shorter's son, Howard Clark, of Lawrence, intended to use the grill today to cook ribs for his mother.
But instead of throwing out the nest, the family decided to borrow a grill for the Mother's Day meal. They hope to watch the eggs hatch.
"My heart just really went out to (the bird)," Shorter said. "I'm willing to share part of my Mother's Day with it."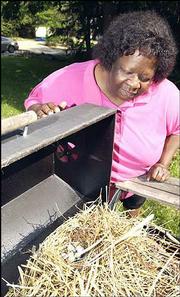 Shorter is a foster parent and has several children and grandchildren, so Mother's Day is a special holiday for her family.
This one will be extra special because now two mothers are involved.
"We're really excited about this mother here," Shorter said, pointing to the nest.
Copyright 2018 The Lawrence Journal-World. All rights reserved. This material may not be published, broadcast, rewritten or redistributed. We strive to uphold our values for every story published.