Most Catholics likely have come across holy cards.
The little cards typically depict saints, Jesus or the Virgin Mary. On the reverse side are often prayers or lines of Scripture.
They're often given out at events such as funerals, priestly ordinations or the profession of religious vows.
Many children attending Catholic schools have received them as rewards for doing their lessons right, or knowing the catechism.
It's not uncommon for Catholics to save a few of the cards they receive, and in that regard, Sister Marcella Schrant is no different. Except that Schrant probably has a few more holy cards than most people. The number of cards in her collection is around 400.
"They just kind of bring back memories of the different saints. They're very pretty, and they're all so different. There are so many of them," says Schrant, referring to the vast number of saints revered by Catholics.
Schrant, 78, keeps the cards in a black, three-ring binder that resembles a photo album.
If you want to take a peek at her holy card collection, you'd better plan to set aside some time. You'll need it. Once you open the binder and start examining the cards, it's hard to stop looking at them.
They resemble miniature oil paintings, like something you'd see hanging in a church or museum, shrunk to fit in the palm of your hand.
With their fine details and beautiful, subtle colors, they resemble nothing so much as pocket-size works of art -- mini-masterpieces.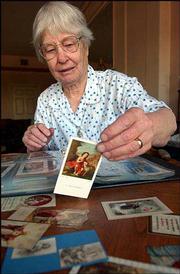 Schrant has been saving holy cards since she was a Catholic schoolgirl, but she can't quite recall how she managed to set aside so many.
"I really don't know. I probably used them as bookmarks, and stuck them in somewhere," she says.
Cards saved over decades
Schrant, a member of the Order of Ursuline Sisters, often has the opportunity to share her collection while on the job.
She has worked the past 10 years as receptionist at the St. Lawrence Catholic Campus Center, 1631 Crescent Road.
Kansas University students active at the Catholic Church's campus ministry to the KU community enjoy asking her about the cards.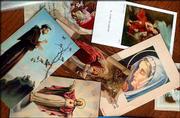 "Most of them want to look through and find their own saint, the one that they were named after," says Schrant.
Though Schrant has contributed many of the cards in the collection, the bulk of them are actually the work of a fellow nun and colleague of hers, Sister Johanna Huetmueller.
When Huetmueller died in 1996, the cards that she had collected were offered to Schrant to keep.
"Sister Johanna and I were good friends. We lived together many, many years (while working) in Rosedale, Kansas, and Roeland Park," Schrant says.
The order to which she belongs is based in Paola, where there is a convent. There are about 30 sisters in the order, some of whom live in Paola, and others who live elsewhere in Kansas.
The collection of cards was organized, arranged according to saints, by Sister Karen Klaffenbach. Also an Ursuline sister, Klaffenbach died in 2001.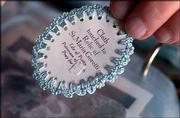 Schrant doesn't know how long Huetmueller collected the cards, but the oldest one dates to 1935, thanks to Schrant herself.
It depicts St. Francis, and she received it when she was a fourth-grader in a Catholic school in Walker, which is near Hays.
In a fine hand, it reads: "To Marcella, from Father Jordan." He was a Capuchin priest who served at her school.
Another card she received and has added to the collection depicts the Blessed Virgin Mary. On the back is written, "Sister M. Augustine, Christmas, 1944. God bless you!"
Schrant was given that card when she was attending a two-year junior college in Paola. She was 18 at the time.
In June 2005, Schrant will have been a member of her religious order for 60 years.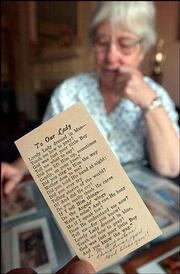 Could join convent archives
The collection continues to grow.
As more people have found out about it, they have given her their own holy cards to add to the hundreds that are already there.
"I had to go buy some more pages (to the album), because I was filling them all up," Schrant says.
Schrant's last day working at St. Lawrence Center is Friday. The staff is being reorganized, and her duties will be redistributed.
"I will miss it. I really liked working with the kids -- I'm sort of like a mother or grandmother. I've been to weddings of students (who were active at the center)," she says.
What will become of her holy cards?
"If I retire, I'll probably put them in the archive at the convent (in Paola), or give them to a couple of young (Ursuline) sisters to show children in schools," she says.
Schrant still enjoys collecting and looking at holy cards.
"It just makes me think about how God loves me and how much he loves his saints," she says.
Though somewhat less popular than they once were, holy cards are still a part of Catholic life."During the '60s, people kind of got away from them. Now they're going back -- at least the college students seem to be interested in them," says Sister Marcella Schrant of the St. Lawrence Catholic Campus Center, 1631 Crescent Road.Holy cards are considered devotional materials -- or sacramentals -- that assist Catholics in their spiritual life."They're something prayerful to think about or meditate on. They mostly depict all the saints," Schrant says.Holy cards are often distributed at funerals, priestly ordinations or the profession of religious vows."When I was a kid a long time ago, the nuns used to give them to us for rewards in Catholic school, for knowing your lesson or something. They're mostly just with the funerals (today)," says the Rev. James Shaughnessy, pastor of Corpus Christi Catholic Church, 6001 W. 15th St."Also they use them for memorial cards -- some people will send them out on the golden anniversary of their wedding or priestly ordination."
Copyright 2018 The Lawrence Journal-World. All rights reserved. This material may not be published, broadcast, rewritten or redistributed. We strive to uphold our values for every story published.