Rene Carey Cummings thought of herself as more than an American soldier during her six-month tour in Iraq.
She was representing the Cherokee people.
"It's a great honor for my people," she said. "It was an honor to serve."
The 1995 Lawrence High School graduate was the focus of an annual assembly Friday at South Junior High School, 2734 La., which she attended in the early 1990s.
The school's principal, Russell Blackbird, presented Cummings with a Pendleton blanket and an eagle feather. Blackbird, a member of the Omaha nation, said eagle feathers were reserved as gifts for particularly special occasions.
He said he had "tremendous respect" for Cummings' service in Iraq.
"For native people, this is the highest honor a person can have," Blackbird said. "The warrior concept was a strong concept in our culture. This is how we fulfill that piece of our lives today."
Cummings is a member of the 308th Psychological Operations Company based in Belton, Mo. The unit's mission was to update Iraqis on American activities and to build trust among the locals and troops.
"Most people seemed very glad we were there," she said. "But there were small groups that visibly didn't like us there."
She said she was able to communicate with Iraqi women in a way most male troops could not.
"There weren't many females who got to go out in the streets and talk to people," she said. "A lot of (Iraqi women) would just come by, smile and nod. They didn't say anything."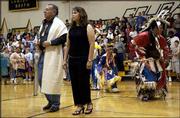 Now, Cummings is attempting to adapt to life back in the United States. She works at a Kansas City-area security firm.
Friday's ceremony made an impression on two South students. Julyn Yazzie and Shawna Willeto, both members of the Navajo nation, said they were impressed by Cummings' service.
"It's good for Native Americans to go to Iraq and make sacrifices," Julyn said.
"She represents all of our nations," Shawna said. "It shows we're willing to represent our country."
Copyright 2018 The Lawrence Journal-World. All rights reserved. This material may not be published, broadcast, rewritten or redistributed. We strive to uphold our values for every story published.