A semi truck broke a utility pole Thursday morning near one of Lawrence's busiest intersections, causing electrical outages and traffic problems into the evening.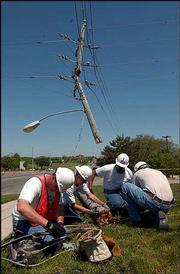 Shortly before 11 a.m., a truck driven by a Rossville man snagged an overhead power line while pulling out of a gasoline station parking lot in the 2300 block of Iowa Street. Pressure on the line caused a utility pole to snap, resulting in lost power for about 1,500 residential and business customers.
The outage also affected traffic signals at 23rd and Iowa streets, officials said.
By noon, police had placed barricades in traffic and announced they were closing the entire 2300 block of Iowa as crews replaced the pole. Sgt. Mike Pattrick, a police spokesman, said drivers swerving around the barricades made officers' jobs harder.
By 1:30 p.m., police had opened three lanes of traffic on that stretch of Iowa Street, but they continued to close it periodically throughout the day. The site was cleared about 6:15 p.m.
Most businesses and homes in the area had power back by noon, but about 100 didn't get electricity restored until 5:18 p.m., said Karla Olsen, a Westar Energy spokeswoman.
The cause of the wreck still was under investigation Thursday. No citations had been issued to the driver, identified as 45-year-old Craig McDowell.
Copyright 2018 The Lawrence Journal-World. All rights reserved. This material may not be published, broadcast, rewritten or redistributed. We strive to uphold our values for every story published.