Everywhere she goes, Angelea Busby talks about her mother's battle with depression.
"I want people to know what the symptoms are, and I want them to know there's help," said Busby, a Lenexa senior at Kansas University who was crowned Miss Kansas in June 2003.
"I want them to know it's OK to talk about it."
As Miss Kansas, Busby, 22, has spent the past 10 months encouraging audiences to find out more about depression.
After almost every appearance, she said, people line up to share their experiences with the illness.
"It's amazing how many stories are out there," she said. "And it's exciting to see so many people talking about it because that's the first step in getting help."
Depression is a brain disorder that affects a person's thoughts, feelings, behavior and physical health. Symptoms include trouble sleeping, lack of energy, apathy, poor appetite, trouble concentrating and not wanting to interact with friends and family.
Depression is known to affect more than 11.6 million Americans in any given year. Less than one-third of those with major depression seek treatment. Unchecked, depression can lead to suicide.
Busby's mother, Marilyn, was hospitalized for two weeks in 1996 for depression. She, too, is outspoken.
"It's not something you get over right away," Busby said. "I tell people it's like sugar diabetes in that it stays with you, but you can make adjustments that let you live a healthy lifestyle."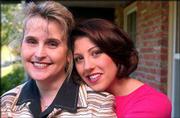 Those adjustments, she said, include counseling and medication.
"You need both," she said.
On Saturday, Marilyn and Angelea Busby will be in Topeka for a fund-raising walk at Washburn University. The event is a benefit for the Kansas Chapter of the National Alliance for the Mentally Ill.
All the money raised will be used to promote mental health awareness and education programs in Kansas, including "Family to Family," a 12-Sunday course for relatives of people with mental illness.
Plans call for the NAMI-sponsored class to be taught at Lawrence Memorial Hospital starting Aug. 22.
What: National Alliance for the Mentally Ill Walks for the Mind of AmericaWhen: Saturday. Check-in at 9:30 a.m.; 2-mile walk begins at 11 a.m., rain or shine.Where: Washburn University, Petro Allied Health Center, 19th & Mulvane streets, Topeka.More information: (785) 233-0755.
Copyright 2018 The Lawrence Journal-World. All rights reserved. This material may not be published, broadcast, rewritten or redistributed. We strive to uphold our values for every story published.