Toronto — After almost doubling his RBI total for the season with just one productive game, Vernon Wells thinks his early season slump is over.
Wells homered twice and tied a career high with five RBIs, and Roy Halladay pitched seven strong innings on three days' rest, leading Toronto to a 10-3 win over Kansas City on Wednesday night.
Wells, who entered hitting just .228 with one home run and seven RBIs, hit an RBI grounder in the first, a three-run homer in the second and a solo shot in the fourth for Toronto.
"I've been swinging the bat better over the last few days," Wells said. "I'm seeing the ball a lot better."
Wells led the majors with 215 hits last season, finishing with a .317 average with 33 home runs and 117 RBIs.
"He's a well-above average player, but he hasn't been Vernon Wells, and I know it's been eating at him," Toronto manager Carlos Tosca said.
Staked to a 7-0 lead in the second, Halladay (3-3) won his third straight start, allowing three runs on 11 hits, while striking out four and walking none in seven innings. He's 4-0 with a 1.50 ERA when pitching on three days' rest, including 3-0 in three starts last season.
"I like doing it," he said. "My location is good. My stuff is the same, but sometimes you hit a wall a little sooner."
Toronto improved to 3-9 at SkyDome, the worst home record in the majors.
Brian Anderson (1-3) lost his third straight start for the Royals, losers of 16 of 20 overall. Their 2-12 road mark also is the worst in the major leagues.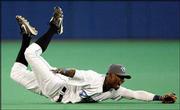 "It's tough when you know you're better than the way you played," Kansas City manager Tony Pena said. "It's tough to swallow."
The Blue Jays took a 7-0 lead in the second as they sent nine to the plate. They scored on consecutive RBI doubles by Kevin Cash and Orlando Hudson, Reed Johnson's sacrifice fly and Wells' three-run homer.
Wells hit a solo shot and Josh Phelps chased Anderson in the fifth with a two-run homer, giving Toronto a 10-0 lead.
Anderson allowed 10 runs -- six earned -- on 11 hits in four-plus innings.
Matt Stairs homered for the Royals in the sixth, making it 10-1.
Kansas City added two more runs in the seventh on RBI singles by Joe Randa and Carlos Beltran.
Notes: The Royals committed three errors and allowed four unearned runs. ... The attendance was just 14,103. ... Wells has five multihomer games in his career. He last hit two homers on July 21, 2003, at New York. He previously had five RBIs on May 3, 2003, vs. Anaheim. ... Kansas City reliever Mike MacDougal hit Wells with a pitch in the eighth. ... The Royals are 4-16 against right-handed starters.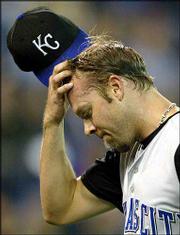 Copyright 2018 The Associated Press. All rights reserved. This material may not be published, broadcast, rewritten or redistributed. We strive to uphold our values for every story published.