Mario Godinez doesn't have to worry about where his three school-aged children are after the final school bell rings.
He knows they're still at Kennedy School, receiving help on their homework or playing games.
The Godinez children are three of 60 regular participants in the after-school program at Kennedy, 1605 Davis Road.
"I just think it's wonderful to have this available," he said. "As opposed to paying day care, this is much better."
But the Kennedy program -- and after-school programs at Pinckney, 810 W. Sixth St., and Woodlawn, 508 Elm St., schools -- could be cut this fall because the grant that funds them is expiring. That could leave the Godinez children and hundreds of others without after-school programs.
The Lawrence district is one of about 50 statewide vying for renewed grant funding for the 2004-2005 year, said Sandee Crowther, the Lawrence district's director of planning and program improvement.
But there's only enough money for about 10 districts. So supporters are scrambling to find other sources to keep the programs afloat.
Janet Murphy, director of Boys & Girls Clubs, is on a committee of the Lawrence After-School Alliance working to find ways to fund the programs this fall. Boys & Girls Clubs run the program at two of the sites.
"I'm always confident these programs will continue," Murphy said. "But the reality is we're losing significant dollars, and it's going to take a lot of help from the community to keep the doors open."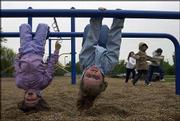 Keeping the programs at current enrollment levels will require about $218,000.
Murphy said administrators were taking a three-pronged approach to funding the program. The approach:
Apply for local, state and federal grants.
Plan a fund-raising drive with businesses and individuals that will begin later this month.
Raise fees for the programs.
Currently, parents pay $10 a month for their children to participate. Proposed increases would make the fees $10 a week.
Murphy said a decision whether to continue the programs could be made by mid-July.
The programs have been financed by a 21st Century Learning Community Centers grant from the U.S. Department of Education. The grant targets schools with the highest percentage of students on free and reduced-fee lunches.
The 21st Century programs are among 12 after-school programs offered at Lawrence elementary schools. Central Junior High School, 1400 Mass., and South Junior High School, 2734 La., also have programs. Some of the programs are offered by the district, some by Boys & Girls Clubs and some by Hilltop Child Development Center, 1605 Irving Hill Road.
The after-school programs offer four areas for involvement: academic assistance; physical activity; social opportunities and cultural enrichment.
"There is a high need so the kids aren't home alone," Crowther said. "This not only helps them academically, but it provides them a safe place to be."
Lisa Powell, who directs the Kennedy School program, said she hoped the programs would continue for the safety aspect they provide.
"It's sad, because I know some of these kids will have to go home by themselves," she said, "and some of them are just in first or second grade."
Copyright 2018 The Lawrence Journal-World. All rights reserved. This material may not be published, broadcast, rewritten or redistributed. We strive to uphold our values for every story published.