Landstuhl, Germany — Thomas Hamill's kidnappers had surgery performed on his wounded arm during his three weeks of captivity in Iraq, an Army doctor said Tuesday.
Hamill, speaking publicly for the first time since he escaped Sunday in a risky run to freedom, said he felt well and was looking forward to seeing his wife and going home to Mississippi.
"I am very glad to be back on an American installation. I am looking forward to returning to America," he said, waving to reporters with his bandaged right arm from a balcony at the Landstuhl Regional Medical Center.
Hamill, a 43-year-old truck driver for a Halliburton subsidiary who was flown Monday to the U.S. military hospital, urged Americans to "keep your thoughts and prayers with those who are still" in Iraq.
He also said he was "looking forward to reuniting with my wife in the morning." His wife, Kellie, was expected to arrive today at Landstuhl after passport delays.
Maj. Kerry Jepsen, a surgeon treating Hamill, said his patient has lost a few pounds but felt "in generally good health" and would likely return home this week.
Hamill was shot in the arm and struck in the head with a rifle butt when his convoy was ambushed on April 9. He underwent surgery that cleaned away dead tissue after about a week in captivity, though it's unclear whether he was taken to a clinic or a doctor came to him, Jepsen told reporters. His bandages were changed daily and he got antibiotics.
His English-speaking captors initially "left him with some water and a couple packages of cookies," Jepsen said. "He did say he was fed regularly."
Hamill was frequently moved from place to place and spent his last night in a cramped, mosquito-infested room with a dirt floor, Jepsen said.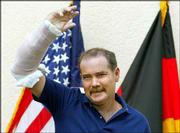 A military photo taken in the mud farmhouse showed his bed arranged on a couple of couch cushions on the dirt floor, with a blanket tossed over them. A bucket served as his latrine.
Hamill squeezed open the sheet metal door of the farmhouse near the town of Balad, 50 miles north of Baghdad, and ran to a U.S. military convoy passing by after he recognized the rumble of the vehicles' diesel engines.
"He just said, 'This is my opportunity and I'm going to make it," Jepsen said.
Hamill has received counseling and has been interviewed by intelligence agents. He also got the food he wanted: a meal of hamburger, french fries and a soda for his first dinner at Landstuhl.
Hamill, who works for Halliburton Corp. subsidiary KBR, formerly known as Kellogg, Brown & Root, was among seven American contractors who disappeared after the April attack. The bodies of four have been found and two are missing.
A U.S. soldier who was kidnapped in the same attack, Pfc. Keith M. Maupin of Batavia, Ohio, was seen in separate video footage.
The remains of a second soldier missing in the attack, Sgt. Elmer Krause of Greensboro, N.C., were identified April 23.
Copyright 2017 The Associated Press. All rights reserved. This material may not be published, broadcast, rewritten or redistributed. We strive to uphold our values for every story published.