San Diego — All along, the San Diego Padres planned for a big start in their new ballpark. Now they're beginning to make believers of everybody else.
After spending the past year rebuilding their roster, the surprising Padres entered Monday with 16 wins -- tied for the most in the National League.
San Diego's surge has been led by veteran second baseman Mark Loretta, rookie shortstop Khalil Greene and new reliever Akinori Otsuka, with a huge assist from Petco Park, located just two blocks from San Diego Bay.
"It's a lot more fun to come to work every day when you have a facility like this and a crowd like this and a team like this," said slugger Phil Nevin, whose initial gripes about Petco's vast, home run-robbing outfield have been tempered by winning.
The Padres have settled into Petco Park nicely enough that Sunday's 6-2 loss to the New York Mets, which snapped a six-game winning streak, didn't spoil their fun that much.
"Keep playing the same style of baseball that we are, and we're going to win a lot of games," Nevin said.
It's a big change from five straight losing seasons, each progressively more dismal, that followed an appearance in the 1998 World Series.
At 16-10, the Padres are percentage points behind first-place Los Angeles (15-9) in the NL West, with a four-game lead over San Francisco and Colorado. They're 11-5 at home, and 5-5 on the road.
After 26 games a year ago, the Padres were 10-16 and already in last place, 81/2 games back. They finished an NL-worst 64-98.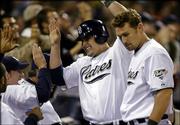 "What we were looking for was to be a better-than-.500 club after the first 19, not just to establish credibility in the division, but with our fans as well," said Kevin Towers, who was one of baseball's busiest general managers in the offseason. "It's been a lean five years. Our confidence is greater now that we've shown we can compete in the NL West."
The new downtown ballpark already has drawn 581,197 fans, an average of 36,325. That's well on pace to break the club record of 2,555,901 set in the Padres' World Series season of 1998, their last winning campaign. It's a good bet they'll draw 3 million.
Petco Park isn't perfect. Some fans have complained about obstructed-view seats and long concession lines.
But there have been eight sellouts at the 42,500-seat park, and the Padres have credited loud crowds with helping during late-inning rallies. The Padres have won five games in their last at-bat, four at home.
San Diego is getting key contributions from several players.
Greene, the NL rookie of the month, has been solid in the field and had game-winning hits on consecutive nights last week. Sean Burroughs is thriving in the leadoff spot, slugger Brian Giles is warming up after a slow start and Bochy recently said the Padres haven't had a player as consistent as Loretta since Tony Gwynn retired in 2001.
Otsuka has made a seamless transition from Japan to the big leagues, going 2-1 with one save and a 0.64 ERA in 13 appearances, with 13 strikeouts and three walks.
Copyright 2018 The Associated Press. All rights reserved. This material may not be published, broadcast, rewritten or redistributed. We strive to uphold our values for every story published.