Linwood — A head-on collision Monday morning in rural Leavenworth County east of Linwood injured three Douglas County residents.
Debra Park, 32, Lawrence, was in critical condition Monday night at University of Kansas Hospital, Kansas City, Kan., a hospital spokesman said. She had to be extricated from the 2002 Volvo S-40 she was driving, according to the Leavenworth County Sheriff's Office. She was taken to the hospital by Life Star helicopter.
Park's 2-year-old son, Andrew Park, was a passenger in the car and was taken by Leavenworth County ambulance to Children's Mercy Hospital in Kansas City, Mo., the sheriff's report said. Hospital officials said they had no information about him.
The driver of the second vehicle, a 1998 Dodge pickup truck, was identified as Cathryn E. Deay, 52, Eudora. She was taken by Life Net helicopter to KU Hospital, but officials there said they had no record of her.
The accident was reported at 8:44 a.m. It occurred on Kansas Highway 32 a half-mile east of Linwood.
Deay was driving westbound on K-32 when she overcorrected the truck after it veered off the shoulder of the highway, the report said. The truck went out of control and struck the eastbound Volvo head-on.
Sheriff's officers still are investigating the wreck. Air bags deployed in both vehicles, and it appeared seat belts were used by both drivers, officers said. Andrew Park was found secure in a car seat.
Officers were assisted at the scene by firefighters from Sherman, Reno and Fairmont townships and Leavenworth County Emergency Medical Service.
Debra Park is a KU researcher in the area of otolaryngology, KU officials said.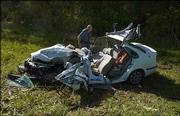 Copyright 2018 The Lawrence Journal-World. All rights reserved. This material may not be published, broadcast, rewritten or redistributed. We strive to uphold our values for every story published.