Denver — Coal, spurned for decades by power plant builders, is enjoying something of a renaissance as natural gas prices drive up the cost of generating electricity.
In the West, as well as other parts of the country, utility companies are contemplating new coal-fired electric power plants for the first time since the early 1990s. But the renewed interest in coal, prompted by concerns over the volatility in natural gas prices, also is reviving protests by environmentalists worried because coal pollutes the air.
The shift toward coal coincides with the Environmental Protection Agency's implementation of a regional air pollution plan intended to clear haze lingering over western wilderness areas.
"We haven't seen a coal plant built in Colorado in two decades and there's a reason for that," said Robin Hubbard of Environment Colorado. "Denver just had the dirtiest summer we've had in 18 years. We clearly need to look at other means of power generation."
Utilities turned to natural gas for new power in the 1990s because the plants are cheaper to build and cleaner to operate than those run on coal. But then came the jump in natural gas prices.
Fuel costs for gas-fired plants are as high as 4 cents per kilowatt hour, while coal plants are about 1 cent, said Robert McIlvaine of McIlvaine Co., an energy consulting firm in Northfield, Ill.
"The breaking point is somewhere around $3 per million BTUs of natural gas," McIlvaine said. "Below $3, gas-fired generation is more attractive than coal."
A BTU, or British Thermal Unit, is roughly equivalent to the amount of heat generated by burning a kitchen match, according to Xcel Energy spokesman Steve Roalstad.
At the current price of about $5.50 per million BTUs, natural gas is not even close to competitive with coal. Some gas-fired plants around the nation are being shuttered because the cost to run them equals the sales price for the electricity generated, McIlvaine said.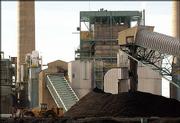 Nationwide, as many as 90 new coal-fired plants are being considered with a combined capacity of 50,000 megawatts, McIlvaine said. That equals about 7 percent of the total power generation available in the United States and carries a price tag of about $75 billion.
One megawatt supplies the amount of electricity used by 400 to 900 homes in one year.
In Colorado, Xcel Energy is planning a 750-megawatt coal-fired plant near Pueblo, Colo., for $1.3 billion, while a comparable gas-fired plant would cost about $533 million.
Kansas is home to several coal fired plants, including Westar Energy's Lawrence Energy Center, which is northwest of the city.
Copyright 2018 The Associated Press. All rights reserved. This material may not be published, broadcast, rewritten or redistributed. We strive to uphold our values for every story published.